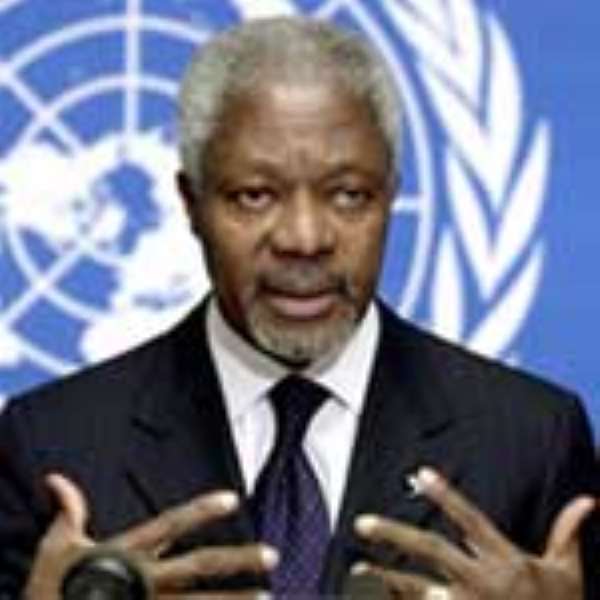 Mr Kofi Annan, UN Secretary-General
The Secretary-General of the United Nations, Mr Kofi Annan, has cautioned African leaders to ensure that the interest generated in Africa's development, especially the extractive industry and exploitation of natural resources, benefits the people of the continent.
He said the agreements, which would be signed with foreign investors were fair, equitable and stood the test of time. The new-found interest in Africa should be welcomed. But the activities are still focused mainly on the extractive industry and exploitation of natural resources. We have to ensure that this new scramble for Africa benefits the women and men of the continent," he said.
Addressing more than 50 African heads of state and governments at the 7th summit of the African Union (AU) in Banjul, the Gambian capital, Mr Annan said, 'The first scramble for Africa was for land, territories, natural resources and slaves. We are still feeling the devastating impact of that period. If we do, future generations will not forgive us and they should not."
President J. A. Kufuor led the Ghanaian delegation to the Summit, which discussed a number of issues related to the development of the continent.
Among the Ghanaian delegation was the Minister for Foreign Affairs, Regional Intergration and NEPAD, Nana Addo Dankwa Akufo-Addo. Other African Leaders who attended the summit were President Yahaya Jameh of the Gambia, President Thabo Mbeki of Sounth African, Abdoulye Wade of Senegal, Blaise Campoare of Burkina Faso among others.
The UN Secretary-General said recent developments in Africa disproved the distorted and widespread image of the continent as a sea of undifferentiated Poverty. He said African had made a head way in conflict prevention security, peace, human rights and HIV/AIDs.
He said through the AU, Africa was learning better to manage and resolve conflicts, adding that the AU Peace and Security Council had proved itself a decisive and driving force.
Mr Annan said the effective use of the African Peer Review Mechanism offered a genuinely African approach to the challenge of maintaining and improving standards of Government for the benefit of all citizens. "I am proud that earlier this year, Ghana became the first country to complete successfully the five stages of the review," he added.
The chairman of the AU Commission, Alpha Oumar Konare called for a common position on a number of pertinent issues relating to Africa.