Freedom never comes - Part 2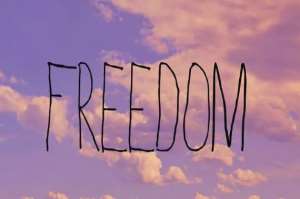 When you are not prepared to sacrifice your life for living on earth life is useless, a run short lived, was standing in their eyes as they looked at each other over the death of the young unknown man.
They sat next to each other not talking. For the past eight weeks they met under the same olive tree that no longer bear fruits. In everything they were, their character, their outer appearance nothing could have been more different than these two young man, yet they shared the same heritage by being Germans. Behind them in the moadon of the Kibbutz Ginegar volunteers from Spain, USA, France, Italy, and England enjoyed the freshness of the evening after a hard time in the orchards and factory. Loud noise created like a background music for the two young Germans did not steal their inner peace. Whatever others wanted to spend their time with, this was not for them to judge. Wasting time by drinking beer and Snaps to relax the mind after hard work done was not their style to find the answers of life and meditate in contemplation. Quietness, listening to the sound of the world around them, the whispering in the trees when the wind blew through the branches and shock the leaves of Orange and Apple trees standing all around close to the living quarter of the Kibbutz was blowing through their souls and filled their hearts. They kept themselves open to the unknown, to the spirits around them, to the understanding of life`s matters. They never saw life as a from to manage some who rather a chance to understand issues of human paths from cradle to grave along the ups and down of a long journey. Someone that wants to know, wants to understand, wants to find out, needs to be an empty bucket standing idle to be filled with wisdom. Knowing and getting to know by interacting with others and still keep inner distance to what occurs around someone and in nations, inside a limited body and mind, can widen the horizon of understanding what this life is all about. Inner freedom, standing tall above oppression of thinking, oppression of the past, the beginning of a personal life, the starting point to race the race of life towards the finishing line, was on their mind, their inner focus. As they did not talk with words, the atmosphere was exchanging thoughts among them after all. An invisible command made them simultaneously pick up soil between their legs, hold them in their palm, crush them with their fingers to make the soil fall down to the ground again. They looked up. Before them right in the darkness just across the road of the street between Afula and Haifa vast cotton fields were once initiated by late Premier Minister Golda Meir the white cotton appeared to them like stars in the skies, little white shining dots everywhere.
Nineteen hundred twenty-two Russian and Polish Jews came to this place in the Jezreel Valley Council near Mighal HaEmek below the mountain on which Nazareth was situated. From humble beginnings one of the oldest Kubbitz in Israel had turned away from Socialism to a more economic approach to harvest the beauty of the surrounding fields. Close to seven hundred Kibbutzniks shared work and daily life side by side agreeing constantly together what should be done and what should be build. It still could happen to anyone of them; a Professor of history could have been assigned for one year as Human Resource Manager and leave Haifa University to benefit the Kibbutz community in this newly created position. Behind the Kibbutz on the walkway up the mountain to reach Nazareth Orange trees and Apple trees were to be seen endlessly as far as the eyes could see. The soil was dry most of the days of the year watered through a dropping pipe system to bring water to the roots and not let it get wasted by the always burning sun. Early mornings volunteers went into the orchards, picked ripe fruits on Kibbutznicks instructions ready for export the same day. As the heat of the day got unbearable by midday, work ended on the fields by midday leaving plenty of time for the volunteers and Kibbutzniks to enjoy the refreshing even not cold water of the swimming pool constructed to train Olympic aspirants they trained from among latented children of the families that lived in their own houses instead of community houses which were in other Kibbutz the home for children with parents being allowed of two hours of visiting time each day in the afternoons.
In the moadon, once only used by the Kibbutznicks but taken over by the volunteers that helped the Kibbutz to grow and form a spirit of unity, create ambassadors to bring home the good news about Israel and their fight for a better life in the middle of hostile environment of nature and man. Sitting under the olive tree and feeling the hard soil between their fingers, both understood the agony and pain, the suffering and hope the Jews around them were going through always on the move for a peaceful life in a country of their choice put before their minds and hearts in the bible. They well understood the Migratory bird movement that had started in eighteen ninety six ins Berlin highlighted in the exhibition at the walls of the moadon by their most prominent figure Theodor Hertzel, the inspiration for a new land for Jews to life always, under any circumstances, be it wishing, fighting, peacemaking or shedding blood and innocent lives of their own. Hard work with few machineries had hardened the will of the first Kubbitznicks surrounded by eyes of evil as they saw it to monitor each and every step of them. Under no circumstances would they ever be willing to leave this holy place again, their promised land for generations of the past to create generations of the future. This land was for them a manifestation of God´s will to have made them his chosen people. Europe had never been good to them, oppression from all sides, but here, this was deep rooted in their souls and hearts, was the final place they had a birthright for and nothing ever would stop them from living their chosen life. The soil the Germans had felt between their fingers dropped down to the ground was filled with sweat of hard labour and spiritual fights. Even it was not watered with blood, blood was the power, the nutrients in it.
The stable in which they keep the cows and milked them was not suitable for tall Europeans. Mainly small Italian girls and young boys were asked to work in the old buildings and bring out the milk for local consumption. To develop this branch of their business activities to a great dairy farm had never been on their mind. All they had wanted is to bring milk to the table of their members and few surrounding shops. The same concept stood behind keeping chicken on their grounds in few chicken coops carefully monitored by an old man from Russia. He never took life as serious as he should have, always ready for a joke with the young female volunteers. Further down the asphalted narrow street years back they had erected a factory to generate further revenues and a new breed of young Kibbutznicks from Europe interested in clean and sophisticated work. Intensive market research had made them start a factory to produce plastic covers for greenhouse roofing's of all colours and sizes. Buying plastic pellets in big bags from abroad they melted them in impressive machinery to bring out the roofing sheets. Few weeks ago, they had started to run a test with perfumed plastic bags to cater for households in hot countries around. While the plastic formed was still hot, they injected it with rose perfume to ensure in households the stink of household waste would not disturb in private kitchens rather fill the air with a pleasant smell of roses. It had been the first time ever that such waste bin bags were produced, and they were very confident their innovation would eventually find a vast acceptance among consumers in hot countries. Due to its nature the factory had to run around the clock always making even the volunteers work in three shifts. Shabbat was no reason for the factory to stop, even all other workplaces in the Kibbutz had to shut down for the holy time with God to celebrate it with all others in the Kibbutz. Even not allowed Jews were innovative enough to use machinery at times not to use them by simply pressing a button that would start a machine indirectly and make it run; not to mention using a car or an elevator. They believed strongly God would most certainly forgive them their chutzpah portrait at this moment to make their life more comfortable being it another period than Moses taken them out of the hands of the Pharaoh into their promised land.
The moadon in the back walking up the steep hilly terrain with trees everywhere passing two lines of simple constructed four two bed houses accommodating the volunteers the laundry came insight. It was a two storey building hidden away easily overlooked by casual visitors. The basement was the place to dump dirty washings in white and red coloured sacks. Once the small wagons were filled, they were taken into the washing machine area to be thoroughly washed by the hands of experienced women. Once iron dry, a small lift brought them up to the ground floor were volunteers and Kibbutznicks alike sat side by side chatting along to gossip about anything possible while ironing the tablecloths and shirts given to them. They were only women as far as the manager had wanted it. She was an old Polish Lady once imprisoned in Bergen-Belsen Concentration Camp had barely escaped from her death bed. Once freed from the Western Allies she had made her way on foot and other simple forms of transport to come to the promised land and was one of the first members that had founded Kibbutz Ginegar, a truly living legend, a walking but not talking history book. She was not ashamed to expose the number tattoo on her right arm once given by the Nazis to mark all Jews. From all women in the Kibbutz she was the most hard working person of all respected by many and applauded by even generations after generations of volunteers she had seen before her ironing cloths after cloths, day in and day out. Being the only Kibbutznick that had the privilege to choose a working place for life this small old woman had made her passion her daily routine. Ironing cloths was not work it was her in person, and by which she was able to make all working for her feel comfortable. Whenever she was in a good and free spirit, in a rare moment of sentimentality over the half break morning ice-cream she would share few insights into her life in Bergen-Belsen. She would never expose her deepest feelings about the time under Adolf Hitler rather reporting like a journalist about what had unfolded on a personal level. Her warm and tender heart was not supposed to be misjudged of a person with weakness and no principles. On the contrary, she was very strict in her conviction that ironing of clothes was never made for men. In her eye's men would never be able to iron with the needed feeling and instinct, and after all one man among only a team of ladies, what a crazy idea it would have been. That is how she thought until the Professor of History ordered a man to join her team. At first, she had sent him back with the message to the Professor she refuses any men to work in her team. A visit of the Professor in the laundry made her change her mind and welcome him the very next day. Under strict and harsh observation, she overcame her resentments, even of the fact he was a German student from Hamburg. As days passed, she took him like a mother and made him the star among all ladies. Each morning all team members were happier showing up for work than before. The old Polish lady got softer by the day, even started to talk during working hours about everything ladies like to talk about. Her sad moment came when two weeks later the German was asked to work in the canteen. She refused to let him go but the Professor had no other choice as another helper had fallen seriously sick.
The canteen was the central place in the community located at a prominent place inside the grounds behind the Administration Block on the left-hand side of the driveway. Community life took place in a room able to cater for all of them. University canteen style like Members and volunteers were sitting at long tables mostly separated from each other. It was not mandatory to sit apart and not mix during breakfast and dinner but both sides enjoyed the company of their own over discussions cross-countries. The work in the canteen was for all the most desirable place to be. Working morning and midday shift or midday and evening shift and in between enough time for private things to accomplish made this workplace so attractive. Sweeping the floor, cleaning tables, and helping at the dish washing machine to take out the hot dishes and put them into their assigned places while food and food, eating and eating was on hand and possible. Coffee and tea, sandwiches and cake, soft drinks, and fruits as far as the eyes could see only an arm length away from any hungry stomach.
They were hearing volunteers leaving the moadon, looked behind them for their eyes to follow the people they worked with side by side during the day. They did not condemn them laughing, drinking, and watching TV while they sat under the olive tree looking into the dark night with stars above. They did what they wanted to do, to think into the chilling night alone with their minds, their thoughts running through their brains making them think and think about anything they could possibly think off. Both had never been that kind of persons finding relaxation and happiness in the middle of noise filled with useless talk, with gossiping about others, speculation about relationships and what football club might win the championship. Dinking, eating, laughing, and calling it party, labelling it chilling with people even worse off than themselves, letting time pass by without understanding more of life´s matters and someone else, was useless to them. Working always with no break was a misunderstanding of their character. Taking time out from work was needed for their souls but in a rather constructive way. They wanted to get closer and closer to who they were, getting a deeper understanding about themselves, the matters that happened to them, the problems faced, the joy felt and the relation of all that heading forward towards the end goal of their own life.