NDC And Their Cohorts Should Give Us A Break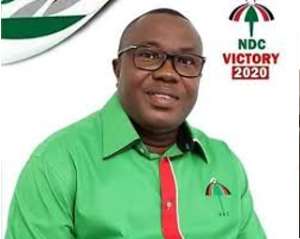 The vehemence and the level of aggression with which the NDC and their cohorts are conducting themselves and maligning the Electoral Commission (EC) and her stakeholders concerning the new voter's registration brouhaha, is mindboggling unfathomable and boisterous in the ears of many Ghanaians.
In as much as, it is their legitimate right and democratic freedom to offer critique and take their own decisions as a political party. It does not mandate them to make vituperative comments, warmongering oriented submissions through the media space specifically on TV, radio, and social media networks. Some comments made by some members of the party are uncouth and tantamount to inciting a cross-section of the public, which is also susceptible to precipitate havoc in the country as well as throwing tantrums to the peace and stability of the nation.
The NDC and their allies must know that the decision by some of it members of parliament and party loyalists to follow Bernard Monah to his CID's invitation is gratuitous, a perfect illustration of gross incompetence and a clear case of a mother who does not care about the health of her wards in these abnormal days of coronavirus pandemic.
By and large, I want to remind the NDC that, this year is an election year, the overwhelming majority of discerning Ghanaians are hungry and thirsty and in anticipation of their campaign messages or manifesto. NDC must focus on forming a resilient campaign team to draft a resounding manifesto and bring out the campaign mantra that will smoothly lure Ghanaians to vote massively to bring them back to power.
The mannerisms of the NDC and their protégés may force one to ask the following rhetoric; Is it because they(NDC) cannot march the achievement of the Nana Addo led the New Patriotic Party(NPP) government or they have no intellectually stimulating campaign message for discerning Ghanaians?
And so they have deliberately resorted to the resistance of the new voter's registration as a strategy or an obstacle to block Ghanaians from viewing the unprecedented achievements of the Akuffo-Addo led administration.
However, I would like to draw the attention of the NDC and their cohorts that their fiendish posture and the tendency with which their party communicators and sympathizers are indirectly inciting the public with violence oriented arguments and obstreperous noises is as weightless as a mere parchment. It has not and can never trigger the patience of Ghanaians to reduce themselves and sleep in the same gutters with them.
The toothless propaganda will not have an effect on what will come out from the court of competent jurisdictions, without prejudice to any judgment. Ghanaians are discerning and we have learnt from our previous mistakes. Our young people are busy cogitating on their future and how to make ends meet. We will not allow ourselves to be used as crass buffoonery use during elections and dumped after elections.
Whilst, I commend the NDC for lawfully hauling the EC and her stakeholders to court to seek redress as the constitution authorizes them to do so. I humbly urge them with verve and vitality to designate legal tussles to their astute legal luminaries as the old adage says "Give that belongs to Caesar to Caesar and that belongs to Jesus to Jesus" and halt their cacophonous attacks on the EC and other stakeholders,
Because, the youth will legally and rightfully resist incessant persuasions and propaganda from any slothful minded politician that can potentially ravage the long-standing unity, peace, and harmony of our country irrespective of our cultural diversity.