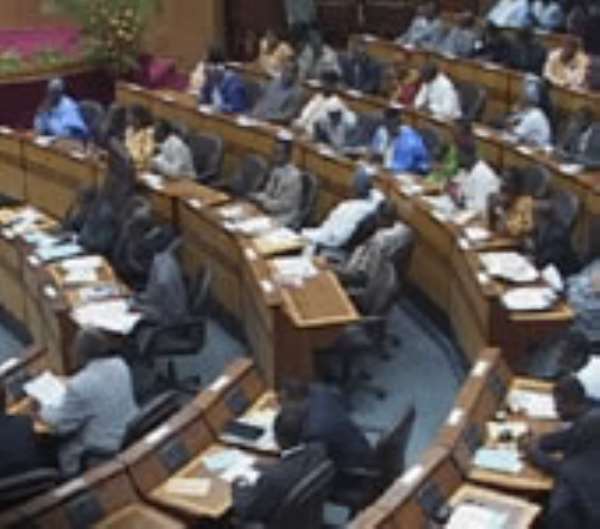 economical with the truth.
The floor of parliament saw heated debate over the condition of roads in Adidome, a town in the Volta region.
This followed a statement by the deputy minister of transportation, Magnus Opare-Asamoah, who said that roads in the town have been gravelled. His comments drew a sharp response and criticism from the NDC MP for Central Tongu, Joe Gidisu who insisted that the deputy minister was being economical with the truth.
The deputy minister was in the House answer questions on the condition of roads in Adidome.
The Deputy Minister, Magnus Opare-Asamoah was responding to a question from the MP for Central Tongu, Joe Gidisu, who wanted to know what the ministry was doing about a facelift of the roads in Adidome.
The Deputy Minister said the 10.2 kilometre road project was being executed in phases. He said the contract for the first phase of the upgrading of the 3km Adidome Junction road has already been awarded to a contractor and it is expected to be completed next year.
He said the ministry has also approved an additional 2.9km for tarring to be included in the contract whilst the remaining 2.3km will be considered in future programmes.
But the MP, Joe Gidisu, hotly contested the deputy minister's description of the roads in the town as gravel surface and in fair condition.
"There are no gravel roads in Adidome and I want to put that as a fact to the minister and for that matter the portion of his answer that the roads in the town are gravel surfaced and are in fair condition is not true."
But the majority chief whip, Osei Kyei Mensah Bonsu, challenged his colleague saying Mr. Gidisu's comments were in breach of the standing orders of Parliament.
"Mr Speaker the issues that he is raising offence the standing orders 67 1B, a question shall not contain any arguments, expression of opinions, inferences, imputations, epicene of controversial, ironical or offensive expressions or hypothetical cases. Mr. Speaker, I call on him to withdraw all those offensive words that he has given."
But Mr. Gidisu stood his grounds saying the minister was not telling the true story. This generated into heated debates with members of both sides joining the fray. First deputy Speaker Freddie Blay, who was presiding on behalf of the Speaker, had a hard time maintaining order. When calm was finally restored, the Deputy Minister Opare-Asamoah insisted that he had presented the true facts of the case to the House.
The acting Speaker, Freddie Blay, cut off any further debate on the issue and moved the discussions to other subjects