Car Crash Kills Lady, Another In Critical Condition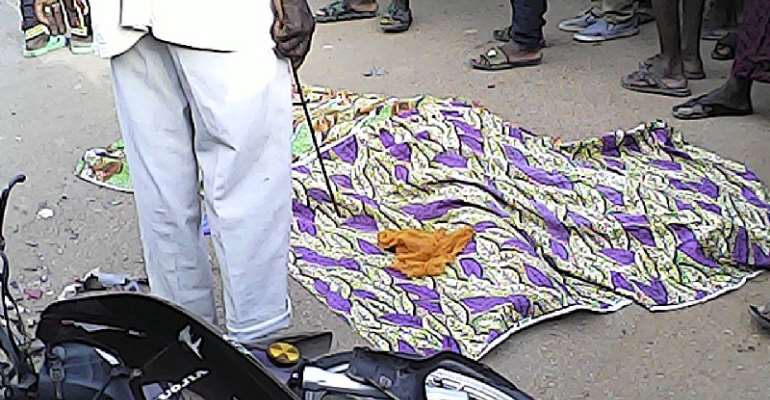 A lady has died in a lorry accident at Buipe, capital of the Central Gonja District of the Savannah Region while another sustained several injuries on Sunday.
The lady identified as Hamdia who is in her 20s and her friend were riding on a motorbike from the Lito Junction in Buipe and an articulator truck also traveling from the Tamale High towards Buipe township run over them.
According to an eyewitness, the driver of the truck honked behind the ladies to alert them of coming vehicles but they got confused and lost control of the motorbike.
The eyewitness said there were some parked cars on the pavement which created no space for them to escape through the sideways of the road.
He narrated that the lady at the back of the motorbike jumped off and fell on the bicycle lane but the exhaust pipe of the motorbike got stuck to the back wheels of the truck and the rider's head was run over by the vehicle.
Her head was crushed by the back tyres and she died on the spot while her colleague was rushed to the Buipe Health Centre for treatment.
Eyewitnesses immediately rushed to the scene and covered the corpse with some clothes and rushed the injured to the hospital.
The Central Gonja District Police Command were not also spared insults when they appeared at the scene late after onlookers had phoned them to report the accident.
The body had been sent home for burial in accordance with Islamic Law on Monday while the injured was transferred from the Buipe Health Centre to the Tamale Teaching Hospital for further treatment.