"The Binfoh Agenda", A Threat To K. T. Hammond's Unholy Self-Aggrandizement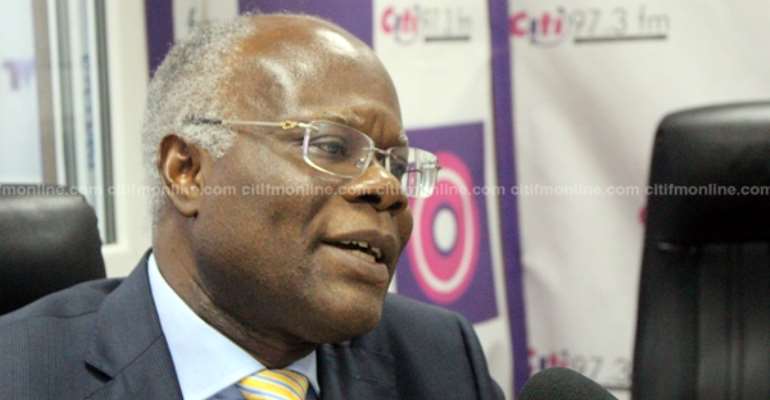 To think through that a Parliamentary candidate has run 5 terms consecutively without being contested by anybody in party primaries is adrenaline-drenching and to agree to it that he is trying to manoeuvre his way to a sixth term by suppressing the candidature of another is too hard a story to believe. Before my first trip to the Adansi-Asokwa constituency, my only knowledge of the constituency was its representative in Ghana's parliament, the Hon. K.T. Hammond. The media had overly concentrated on the legislative prowess of the man, at the expense of development and deep-seated issues surrounding the constituency that he represents. The man K. T. Hammond has always had an easy pass from whenever he started politics prior to the year 2000 up until now. To be apt, the political history of Ghana, the Ashanti Region, NPP, and the Adansi-Asokwa constituency has no record of the legislature being contested at the primaries level by any candidate, at no point in time in over two decades - not even a bird (assuming human beings were not good enough to contest him). This has been a direct result of his unholy union with hitherto party executives at both the constituency and to a larger extent the regional levels who have barred any attempt by any party member in good standing willing to contest him. In my thinking, K.T. Hammond should be the luckiest parliamentarian to dwell on the shores of the country.
Unseating him has been a quixotic endeavour and something that appears possible only in soap operas as the man has covertly and overtly appropriated the parliamentary seat for himself through whatever means possible and noticeably amongst them being the "Machiavellian" route. It was only recently that the NPP through its General Secretary announced the names of candidates approved for contest in their upcoming congress that a new individual has been allowed to contest Hon. K. T. Hammond, something that deserves every single character of the word "unprecedented". This is in the person of Mr. Sammy BinfohDarkwa - a former NUGS President and currently ChiefAccountant at the Ghana Publishing Company Limited. After years of negotiations to step down after every term he ran, everyone knows that there is no better time than now for the Member of Parliament who has internally gone unopposed for two solid decades to decline Caesar's crown and step down after 5 uninterrupted terms but here we are again. The decision of Mr. Sammy Binfoh to contest the incumbent MP has not come without skirmishes as there have been countless attempts by Hon. K. T. Hammond and his cohorts to get him disqualified. Attempts by him have been unsuccessful from the Constituencylevel, through the Regional Vetting Committee to the Steering Committee, Appeals Committee and NEC with various levels of untruth and implausible claims made against the young man.
There has been a growing level of petulance on the part of the incumbent MP and it is evident he feels suffocated by the contest from Mr. Sammy Binfoh Dakwa because it's a common knowledge that hitherto party executives in the constituency, people that may at best be described as selfish hedonists (and that is no matter how charitable with them and economical with the truth), before the assumption of power of current constituency Chairman, Kwame Owusu had all been in the pockets of the incumbent MP and as such engaging in an explicit quid pro quo that has throughout these years made him overly pompous and having free and easy passes. It is however unfortunate that on the part of the incumbent and his cohorts, these irregularities to make him go unopposed all the time since 2000 has been exposed by the slow eddies of time. Now, his ludicrous delusions to run a 6th term unopposed is threatened by attempts to make the contest an open one. To him, no native of Adansi Asokwa should have any intimations of contesting him since he is a founding father of the party and has adopted the constituency since 2000. It is sickening that a failed attempt at getting Mr. Binfoh disqualified by the Hon. Parliamentarian has led him referring to the Ashanti Regional Chairman of the party as "that boy" when attempts to get him disqualified didn't materialize at the Regional vetting Committee and a host ofother vitriolic statements that is reminiscent of someone who is unconstrained by the decorum of public office.
His plans to contest unopposed was made clear at the very minute when nomination forms touched the first surface of the constituency office. At the behest of the Hon. K. T. Hammond, and as communicated to the constituency executives of the party, it was his plan to buy all the three forms that were sent to the party office in an explicit attempt to deny any other individual from picking up forms to contest him from the outset. It was however unfortunate on his part that a section of the leadership of the party at the constituency, navigated by the revered Kwame Owusu did not heed to his offer and allowed Sammy Binfoh to pick up one of the forms. This was enough to awaken the ego of Hon. K. T. Hammond and as such decided not to buy any of the two remaining forms in the custody of the constituency executives but rather buy it at the national level. Even after Sammy Binfo Darkwa tried to submit his completed nomination forms, elements within the party executives planted by the incumbent like the Constituency Secretary had scripted to provoke the followers of Mr. Binfoh in an attempt to foment chaos to taint the personality of Mr. Binfoh as a militant.
The Adansi-Asokwa constituency has virtually turned into the hub of all conspiracies as the incumbent further claimed that Mr. Sammy Binfoh Darkwa is an alien who he knows not where he comes from and as such should not be passed fit to contest him. As feeble as this claim was, it went down quicker than a popped balloon. Hon. K. T. Hammond's very own Fante leanings could not support a plan to play politics of background and origins as he was quickly informed by his indolent, diabolic informants in a quick turnaround that the father of Mr. Sammy Binfo Darkwa, the late Mr. Kofi Anane-Binfoh, a former Senior Principal Secretary during Gen. Acheampong's rulership is a native of Adansi-Dompoase, and his mother is a native of Adansi Hwiremoase, a place that is only 2 minutes' drive from the incumbent's house in Adansi-Asokwa. The famed Nana Mahama Gyasi, a native of Adansi-Brofoyedru who tirelessly fought the threat of other groups who were bent on laying claim on the gold-rich Adansi lands is his maternal grandfather. So where lies the claim that Sammy Binfoh Dakwa is not from Adansi-Asokwa? And lest I forget, his uncle is Professor Stephen Adei, the Board Chairman of Ghana Revenue Authority who also hails from Adansi-Hwiremoase.
It is ironic and unbelievable that in the delegate system of elections where voters paradoxically no longer choose their representatives but representatives choosing their voters, it comes to every onlooker with absolute shock that the Hon. K. T. Hammond and his cohorts who claim to have the loyalty of 350delegates out of the 434 delegates in the constituency is still employing "Machiavellian" machinations to get Mr. Sammy Binfoh Dakwa ousted and run another term unopposed. Many an individual keenly following the contest in the Adansi-Asokwa constituency has grown to know that the stories of conspiracy levelled against Sammy Binfoh has assumed a sickening nomenclature as the man who was tagged "a boy" by the incumbent has proven to be "a piece of work" for the 5-time legislature.
Another flippant claim that Mr. Sammy Binfoh Dakwa is uneducated (assuming without admitting that politics is an exclusive preserve of the educated), is a story that is as grotesque as it is stupidly plausible. It is hard to believe that someone uneducated could become a Chief Accountant at the Ghana Publishing Company Limited. Does that make sense to anyone? For anybody starving of information, Sammy BinfohDarkwa Mr. holds an MBA in Finance and also a Chartered Accountant in good standing. How would anybody uneducated in his lifetime be voted a NUGS President? Further claims that he has also not done anything for the party diminished quicker than it arrived. The efforts of Mr. Sammy Binfoh and his inherent ability in organizing people to vote for the party during the last elections cannot be lost on some of us. His commitment to help school-going children in his constituency has been too evident in a long time. I also know for a matter of fact that the furniture in the Constituency office of the party was self-financed by Mr. Sammy Binfoh.
It is obnoxious to know that in all the 5 times that Hon. K. T. Hammond has ran, he has done that through popular acclamation. Claims that nobody has contested him cannot be true and can only be an improper narration – to be apt, nobody, through various machinations has been rather allowed to contest him. Mr. Hammond has had an untrammelled endeavour as an MP for 5 consecutive terms and he, still having intimations of running a sixth term through similar means is nothing but fantasies of megalomania. In the perplexity of these, it is good to know that Sammy Binfoh Dakwa remains resolute and undistracted by these claims, what many see as petty and trivial and hasn't backed down his tough decision to run the five-time MP at a constituency where he (Mr. Binfoh) was born and where both parents of his hail.
It is not wrong to assume that the Hon. K.T. Hammond evaluates himself as being a nimbus and his utterances can only be described as an individual who sees the party's electoral chances in the constituency exclusively as a product of his personal magic and gifts. It is equally unthinkable to know the reasons why Hon. K.T. Hammond, a 5-time Member of Parliament is trying to eschew competition, because he has had twenty years to run the affairs of the Adansi-Asokwa constituency as its Parliamentarian. These are twenty years bereft of any form of interruption to develop your constituency and more importantly when the NPP has been in power for 12 out of these 20 years, 20 years in which he has spent a good number as a minister.
From wherever I stand, it is too obvious to see that these are attempts by him to get another easy pass but maybe the Hon. MP should have focused on curbing the unbridled youth unemployment in his constituency which stench has assumed nauseating proportions, this, would have been a better way to get an easy pass no matter the number of people contesting him.Maybe, just maybe he should have focused his energies on developing infrastructure in the constituency. To think that he possess such rabid impudence to give the party a 48-hour ultimatum to disqualify Mr. Sammy Binfoh Darkwa is tantamount to an acceptance of his very own defeat. All the reasons for which K. T. Hammond and his cohorts are advancing for the disqualification of Sammy Binfoh, are nothing but flippant, concoctions and figments of his own imaginations and an inevitable hangover from several attempts which he has made that has been thrown out with no brainer. Maybe, just maybe, Hon. K. T. Hammond's unlimited capacity to see Sammy Binfo Darkwa ousted ab initio which is becoming increasingly repulsive should have been channelled into his campaign - but you can't blame him more, after all, it is something he has never done in over 20 years. It is never too late and as such the most honourable thing for him to do now is to get to his constituents, the very people he never visited at a time when the coronavirus was mercilessly ravaging Ghanaian communities, the very people on whose support he has ridden over the past two decades unopposed and tell them the reasons why they should endorse his candidature for the umpteenth time albeit against another contestant this time round since his attempts to get Mr. Sammy Binfo Darkwa has been discussed ad naus without yielding the fruits he has so much desired for.
After all, "leadership is all about seeking for an opportunity to better the lives of those you seek to lead".
Written by;
POKU ADU AGYEI
ADANSI ASOKWA