A Quick Note To Akora Kyei - Of The Eco-Conscious Citizens Group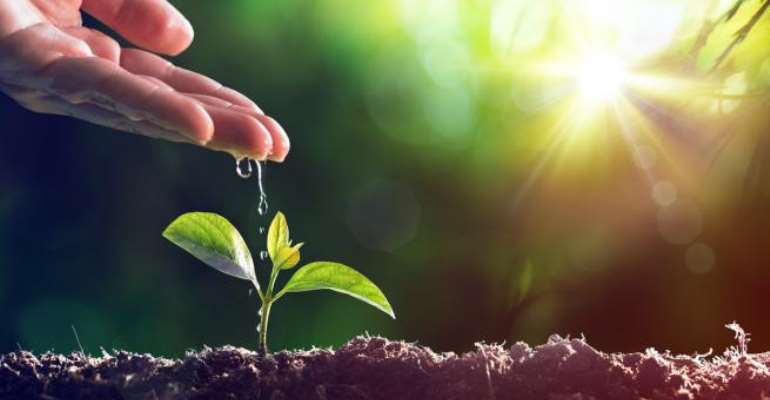 Opanin, with respect, surprising though it might be to some, in as far as the issue of protecting the remainder of our nation's natural heritage is concerned, President Akufo-Addo has done exactly what he promised to do, ooooo. Let us be clear about this: if he has failed, in protecting ecosystems and biodiversity, then it is our collective failure, Massa.
When you live in a nation in which calling foolish politicians, and moronic high government officials, stupid, invariably elicits the inane-strictures of clueless and puffed-up media professionals (who think one is being insulting, in calling a spade a spade, incredibly), we must not expect corrupt regulatory officials to fear public opprobrium, and, a priori, implement the president's appointees' directives, on the ground, so to speak, where it actually matters.
In other words, we ought to partly blame the misplaced sensibilities of idiot-gatekeepers, on the airwaves of television and radio stations across our homeland Ghana, who think one is being insulting, in calling a spade a spade, incredibly. That, in a sense, shields corrupt regulatory officials, round the clock, sometimes, as one can't call them fools, even when their foolishness harms the natural environment.
With respect, one knows what one is talking about in this matter: for, one's family, actually owns a fair bit of land across Ghana's Eastern Region (alas, one is the type of old-fogey, often referred to, by some, as being very, very cash poor, but super-rich, asset-wise), including a small part of the Atewa Range upland evergreen rainforest, on a freehold basis.
Consequently, one understands perfectly, what is actually happening on the ground, so to speak - as regards the many crimes-against-humanity, which the wanton environmental-vandalism that we are now seeing, across most of the landmass of Ghana, represents, more than most Ghanaians do, in this crazy nation of ours.
That is why, although one loathes the party he leads, with a passion, President Akufo-Addo, on a purely human level, happens to have one's support 100 percent - because one knows how hard he has tried to halt the destructive-abomination we are now lumbered with: with vast swathes of the Ghanaian countryside poisoned with heavy metals and toxic chemicals.
It is the perfidy of greedy and influential political figures, in both constituent parties of the NPP/NDC duopoly, who should be blamed, not President Akufo-Addo - whom one knows for a fact, actually cares about the natural environment: because he happens to be a caring and sensitive human being.
And, from personal experience, one understands perfectly that as long as criminal-types can bankroll political parties in Ghana, without any sanctions against them, whatsoever, and successfully launder their off-ledger-generated cash, and also become influential party executives, on top, too, our nation will eventually lose all its forest cover, within the next 20 years.
So please leave President Akufo-Addo out of this matter, wai, Massa. I speak as a targetted victim, whose family did everything possible to halt the gang-rape of the freehold 14-square mile rainforest property it owns, at the Akyem Juaso section, of the Atewa Range, but was unsuccessful, because the galamsayers and illegal loggers destroying our land, were backed by some NDC politicians, in the Mahama-era, who hated me so, for criticising them in relentless fashion.
In any case, to prevent such crimes from continuing to occur, when I eventually become President in January, 2025 (with the help of the zillions expected from my small stake in the serendipitous game-changing clean power invention, of the brilliant Ghanaian inventor, Raphael Afordoanyi), I shall make it possible, by executive order, for the security agencies to shoot all illegal loggers, illegal gold miners, and illegal sandwinners, on sight. Full stop.
Massa, that is the only way to save what is left of our natural heritage. No endless pussyfooting around, and daft-mollycoddling, of the heartless criminals, making us all so miserable, with such impunity, with the active connivance of regulatory officials - when I lead Ghana, and make it a paradise for the law-abiding, and a hell-on-earth, for sundry criminal-types. Simple. Case closed. Full stop, Massa. Cool. Hmmm, Oman Ghana, eyeasem ooooo. Enti yewieye paaa enei? Asem kesie ebeba debi ankasa. Yooooo...
Sent from Samsung tablet.