21st Century Learning Design In Focus: The Collaboration Rubric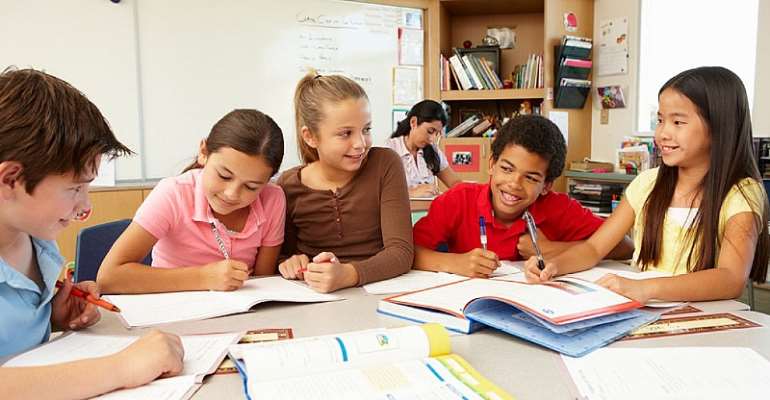 In the wake of the changing world , various facets of life keeps on changing to meet the demands of the changing world. Education, being part of our lives needs to be also changed to match the world's dynamism. In my previous article titled "21st century Learning Design In Focus", I outlined the learning rubrics in the 21st century according to the International Teaching and Learning (ITL) research project. The rubrics were collaboration, self regulation, Knowledge construction, Skilled communication, the use of ICT, and Real -world problem Solving and Innovation. This write-up seeks to navigate how collaboration can be fostered and included in our lessons.
Collaboration
The idea of collaboration is nothing new, it simply means working together with others to achieve a goal. Basically collaboration demands that a work is done by more than one person such that the product of the work is owned by the group. Consultation can be done during a collaborative work but if the work's product excludes the consultant, they do not form part of the group. According to the ITL collaboration rubric, the mere formation of group to work on a project doesn't achieve the collaborative aim but an interdependent work should be done by the group. Interdependent work affirms the all hands on deck approach i.e. each group member has a role to play to ensure that the work is done.
Big Ideas in Collaboration.
The ITL research project outlines some big ideas which determines the level of collaboration. they are
1.Working together
2.Shared Responsibility
3.Substantive Decision
4.Interdependent Work.
Working Together
Students work together when the activity requires them work in pairs or groups to discuss an issue, solve a problem and create a product. Working together may include students outside the classrooms such as those in other classes or schools. Students can work together by face-to-face or by using technology.
Shared Responsibility
Students have a shared responsibility when they have to work together to develop a common product, design or a response. Shared responsibility goes beyond just helping each other, students must be mutually responsible for their product, design or response. The inclusion of people outside can be termed as shared responsibility only if the students and the outside participants are mutually responsible for the work.
Substantive Decision
Substantive decision is made when students resolve an issue to shape a content, process or product.
Interdependent Work
Students work is interdependent when all must participate in order for the team to succeed . Most at times a work given to a group of students are not equally distributed among themselves. In some situations one student will just take full responsibility at the expense of the whole group. For work to be interdependent all students must contribute a quota for the overall success of the work.
Rubric-Collaboration
According to the ITL research project, collaboration has its own rubric which shows varying levels at which a lesson achieve the collaboration rubric. There are 5 levels in this rubric.
Students are not required to work in groups.
Students are required to work together but do not have a shared responsibility.
Students have a shared responsibility but are not required to make substantive decisions
Students have a shared responsibility and they make substantive decisions about the content, process or product but their work is not interdependent.
Students have a shared responsibility and they make substantive decisions about the content, process or product and their work is interdependent.
These varying levels shows how a lesson meets the collaboration rubric. In my next article , skilled communication will be looked at.