The Tragedy Of Africa, The Unfinished Work Of The Founding Fathers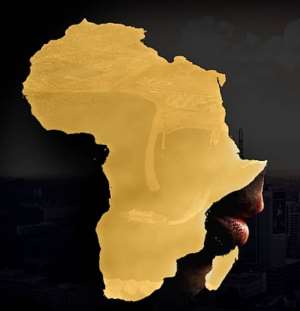 Through different historical epochs, it has not been lost on us that whenever a Blackman says I could not breath, his pain becomes extreme suddenly. During slavery we bellowed out we could not breathe. During colonization we howled we could not breathe.
In the 1980s during the structural adjustment we could not breath because, we saw new patterns of poverty, vulnerability and food insecurity, Paralysis of the public services: Cash and carry in health: education for the rich only, Subsidy removals- poor agricultural production- poor rural incomes- peasantization of poverty: rural-urban migration, Loss of employment in state sector and slow growth of private sector.
To top it all off, during globalization we thought that it was merely coming together of the world to trade we never thought it is this suicidal so we yelled out very sharply but we could not be heard. Waking up to the reality that, the neo colonial project lead by the Chinese is taking advantage of the disunity of Africa sooner than later will serve us a Godlike aura of speed and efficiency in our growth.
We call it a world but in actuality, it is a jungle where neither equity nor its worse form equality has a place to dwell. When our leaders are invited, they are being told and made to believe by the gun salutes that welcome them that we are all equal sovereign states. And If that is true, why is it that, leadership of the common wealth is hereditary rather than rotational? Why are powers of the security council of the United Nations vested in the hands of some so-called super powers? What works is survival of the fitters and everything considered, the perishing of the least adapted. Africa became a hunting ground for Portuguese, Belgians, Spaniards for slaves and the story is true even today. Our ancestors built the USA who as at the 14th century had no place in history.
Even today out of about 230 million Africans at the Diaspora make the best Doctors and other professionals in the USA and other countries. And when slavery lost its shine, they replaced it with yet another pernicious enterprise: the colonization of Africa which saw Africa divided into boundaries by the Berlin conference in 1884. In a misunderstanding between European tribes they called it world war. our ancestors were tools for the war.
In 1946 when the league of nations dissolved, the USA was first to pen in their universal declaration of independence that: colonialism was undesirable and that, 'all men are created equal, that they are endowed by their creator with certain unalienable Right, that among these are Life, Liberty, and the pursuit of Happiness'. You who preach virtue and practice vice.
If the European union with a GDP of more than 18.8 trillion USD representing 22% of global GDP and the largest economy in the world could call for a bilateral negotiation with Benin which has a GDP less than the net worth of Bill Winters CEO of Standard Chartered Bank, America negotiating with the Burundian economy with a GDP of about USD 3 billion which is proportional to the same sum an American professional boxer earns annually, and if France USD 2920 billion could negotiate with Benin whose GDP is smaller than the budget for Coca-Cola in a year, then the world isn't fair and that we can't breath as a civilization.
In other words, African economies can only realize their potential if they present themselves on the world stage as one body.
This is the way forward and not just change of a leader who will continue to work in the same difficult environment. It gratifies my heart therefore that the African Continental Free Trade Agreement is set to kick start in July this year. It is time to give meaning to the words of the founding fathers, Kwame Nkrumah, Julius Nyerere, Ahmed Sekou Toure, Samora Moses Machelle, etc. The black man is capable of managing his own affairs (Kwame Nkrumah). The Senegalese started producing their testing kits and the French were not happy. As if it is their divine duty to instruct the Blackman.
The French must not forget that, it is not the duty of the Blackman to make the Frenchman happy. We are aware of the pact designed by the French to force the 14 former French colonies to pay colonial tax for the benefits of slavery and colonization since independence till today and the community of nations have said nothing about. We have seen Africans being denied medical treatment in Italy because of the color of their skin.
We have seen in China how Africans were being treated and evacuated from their homes. Meanwhile, there are just 100000 Africans in China yet 700000 Chinese in Ghana alone making 2.4 % of the people in Ghana our heritage and the figure is expected to reach 300 million by 2030 in Africa. On our own land we have seen Ghanaians being lashed like students in Chinese companies for being late for work.
We have seen the activities of illegal mining being championed by Chinese that led to the deterioration of the environment and rendering our water bodies polluted. We have seen Zambia and Sri Lanka losing their port to China over their inability to pay their debt.
"Remaining on the drawing board for long waiting to attain perfection will do us harm". Africans must move to the ground even if we will make mistakes. Covid-19 and the death of George Floyd is a wake-up call to all Africans most especially to the stomach Politian who for many years has been perhaps Africa's curse. We have an army of young men and women who can turn on power in the areas of education, agriculture, politics etc. for good. I urge them not to fall to the trappings of power otherwise if we do, we are done.