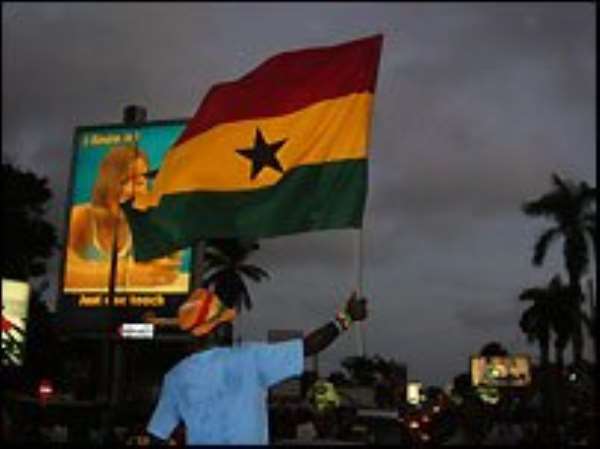 Accra, June 27, GNA - Supporters of the Senior National team, Black Stars did not in the least, let the Stars exit from the World Cup at the hands of World Champions Brazil dampen their spirits as they came out to celebrate the team's gallantry performance in the tournament.
Though the celebration was not comparable to the Stars victories over Czech Republic and USA at the Group stages, response of the supporters indicated that they were really proud of the team's performance.
Most of the fans that thronged the streets were in the red, yellow, black and green colours of the National flag.
Whilst some sat on the bonnets of cars tooting their horns, the youth and women were seen in pockets running on the streets singing patriotic songs.
The scene was so fascinating that anyone who had no knowledge of the results thought the Stars had won the match.
Most of the fans expressing their sentiments said the Stars lost the match through the Slovakian referee Lubos Michael, for some strange decisions that caused the Stars defeat.
The Stars ended Africa's challenge in this year's World Cup tournament when they lost 3-0 to defending World Champions Brazil in Dortmund.
Takoradi
One person collapsed and later died at the Takoradi Hospital after Brazil scored the first goal against Ghana in the on-going FIFA World Cup Competition in Germany.
The deceased identified as Richard Amenawu alias Dela aged 32, was among friends watching the match at the Railway quarters near Goodnews FM radio station in Takoradi.
According to a family source, the deceased was found to be motionless soon after the goal was scored but upon critical examination, he was found to be staring blankly at the television set without any movements.
The source said the deceased was therefore, rushed to Takoradi Hospital where he was pronounced dead on arrival.
Several football fans and friends of the deceased, on hearing of his death, gathered in groups at the hospital's premises to sympathise and catch a glimpse of the deceased.
In another development, few supporters of the Black Stars took to the streets and converged at Takoradi Market circle to jubilate.
They contended that defeat of Ghana by Brazil was not the end of football in the country.
Some of the fans that could not join the jubilation stood by and discussed the match and its effect on the people.