Stalemate Over Delayed Rehabilitation Of Nkawkaw Stadium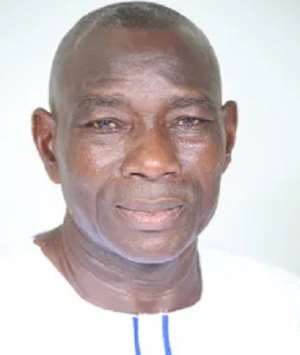 Eric Kwakye Darfour
There is uneasy calm in Nkawkaw, the Municipal capital of Kwahu – West in the Eastern Region, over the rehabilitation of the Nkawkaw Sports Stadium, which some youth of the town claim has been unduly delayed.
The Concerned Youth of Kwahu think that the delay is attributable to the political wrangling in the pending primaries, which pits the Regional Minister, Eric Kwakye Darfour, who is also the Member of Parliament (MP) for Nkawkaw and Deputy CEO of Middle Belt Development Authority, Lawyer Joyce Boateng.
The construction of the Nkawkaw Stadium was a campaign promise made by President Akufo – Addo in 2016 to the people of Kwahu.
Kofi Owusu Ansah, the leader of the Concerned Youth of Nkawkaw, who laid out the worries of the youth to the media, called on government to fulfill its promise by rehabilitating the Nkawkaw Sports Stadium, adding that the contractor has not come to the site yet.
According to the youth, the delay in the construction of the stadium is as a result of politics and so they plead with government to intervene to reverse the situation.
Government, through Middle Belt Development Authority, last year, awarded the project but the sod-cutting ceremony, which was expected to start, was yet to come on.
The Regional Minister, last week, angrily stormed the Nkawkaw-based Agoo FM after Lawyer Boateng accused him of sabotaging the Nkawkaw Sports Stadium redevelopment project.
Lawyer Boateng was in the studio reacting to the allegation against her made by the Nkawkaw Constituency Secretary of the NPP, Andy Ameyaw, over the project delay.
In a rebuttal during the live studio interview, Lawyer Boateng said the delay in the commencement was due to sabotage by some individuals with parochial political interests.
"Refurbishing the stadium is not my project. It is for the government and I have never said it anywhere that it is my project, but I lobbied for it as the Deputy CEO of Middle Belt. The fund has been allocated and so if I am not around it must go on," she said.
The Nkawkaw MP, not happy by the insinuations by his opponent, dashed to Agoo FM's office in an attempt to forcefully enter into the studio, but was stopped.
The Deputy CEO of Middle Belt Development Authority said the Nkawkaw Sports Stadium happened to be an old age problem.
Mr. Darfour has denied accusations leveled against him.
---Daily Guide