A Tragedy To The Society And Educational Facility At Tutukpene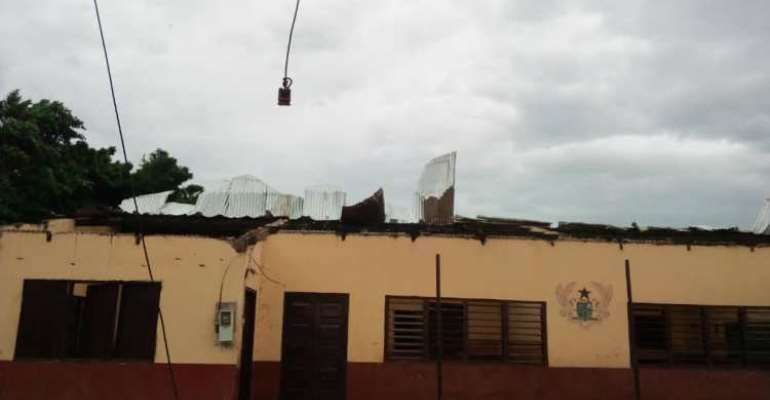 After a heavy fall of rain (downpour) with storms on 9th June 2020 which led to the removal of roofings of household buildings in a village called Tutukpene, in Nkwanta south district, Oti region.
This society has a good record of hostility and recreational facilities to visitors and strangers along the Nkwanta to Dambai stretch (Regional capital), eighteen miles away from Dambai, and nineteen miles away from Nkwanta, in the Oti Region.
The heavy rainfall started around the early dawns of Tuesday, of which many lost their properties, belongings, and injuries of some folks in the community. Amongst the tragedy the rainfall bewitched on the society is the popular Tutukpene Kindergarten block in the Nkwanta District, which was roofed off, some particular buildings which stand as the eye-saw of the community were also affected.
However, the greatest of it all was that lives were not taken away which obviously means that, in spite of the heavy storm and downpour caused, it was only properties that were lost at the expense of some hard-working members of the community.
Indeed it was a sorrowful and heart-disheartening situation to have witnessed.
One of the injured person that the roofings split-off a part of her head shared her experience/story when she was rushed to the community health center, after a thorough check-up and subsequently discharged. _I could not go out because outside was not safe and my building was not firmed to contain the vibrations, even though l saw the roofing lifted after hours of the storm, she added.
The NADMO Coordinator of Nkwanta south municipality, in the person of Mr. Larrey James in collaboration with the Assembly Member of Tutukpene electoral area, Honorable Adu Francis observed the affected buildings disrupted and filled a report to be checked for rehabilitation and maintenance of these properties.
As this has been an annual disaster and calamity to the society in these times of rainfall season, the duo urges the society to remain calm as they work to build a conducive and harmonious environment to ease the burden on the society.
Honorable Adu Francis urged the government and NGOs to come to their aid and assist the community with the rejuvenation of the stated buildings, most especially the public school (Kindergarten).