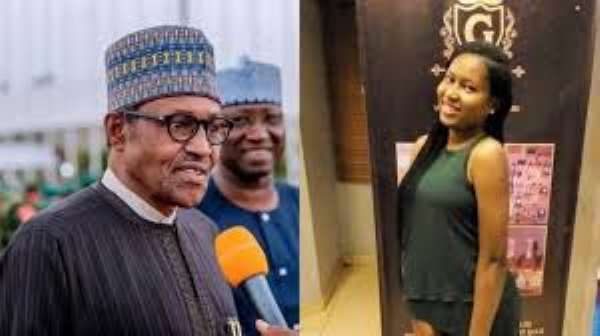 Nigerian wickedness have graduated from a Jihad of the penis, the type waged in Chibok and Dapchi, to rape in the church, the type witnessed in Redeemed Christian Church God, RCCG Benin.
To refresh unsavory news, Miss Vera Uwaila Omozuwa, a 22 year old microbiology student of University of Benin, and chorister with RCCG, Ikpoba Hill, Province of Benin, was raped and murdered inside the same church she and her family had put in sixteen years of faithful service to God.
Christianity is endangered in Nigeria. It was endangered by both the rampaging Jihadists and the rapacious church members. There is both internal and external pull at the fabrics of the church and the leaders are yet to realize that hard times have come again.
The outrage over the murder of Uwa in RCCG had not died down when an anointed Bishop was apprehended by the police for raping a 19 year old girl in his church, Victory Revival Fasting & Prayer Ministry, Warri. The anointed Bishop by name Elijah Orhonigbe is now in police net (pending when he pays his way out).
Refreshing again, Boko Haram Jihadists invaded Chibok Government Secondary School in 2014, a Christian dominated local government, and abducted 276 school girls between 13-18 years. About 30 of them escaped, about 70 were rescued through various means, while the rest have been raped to death by the Muslim Jihadists, who converted them to the promised '70 Virgins of Heaven'.
I wrote four articles on the Chibok abductions as a key activist, columnist and writer and I gave information to lots of news outlets outside Nigeria seeking information on the situations with the abducted school girls. I also received credible tips from well meaning residents of Borno State including late Senator Ahmed Zanna on the activities of the Boko Haram Penis Jihadists, till the political leaderships bungled the attempt by the United States and United Kingdom to rescue the abducted school girls. Therefore, I know much about the Chibok debacle more than probably those in the 'Bring Back our Girls' Campaign.
In my piece of November 7th, 2014, titled 'Why US Government Refused to Assist Nigeria with Technology to Fight Boko Haram', I said that
"What US military officials met on ground physically physically was enough for any sane nation not to commit its troops and weapons into operations likely to be sabotaged even before take-off.
1 It was the US that first alerted the world that 10 Generals of the Nigerian Army were among 15 officers being secretly investigated for passing sensitive information to Boko Haram.
2. It was the US that officially verified information from local observers, villagers and hunters that Boko Haram had split the Chibok Girls into three, taking them into different camps.
3 It was the US that confirmed that due to probable high level sabotage, the only way to release the Chibok girls would be through high powered negotiations since any attempt to embark on a rescue operation would likely be sabotaged, endangering the lives of both the Chibok Girls and the US troops".
In another piece titled 'Boko Haram, Chibok Girls and Jihad of the Penis', published July 16th, 2014, I reechoed that:
"A new type of Jihad which uses penis as instrument of conversion and coercion has been introduced into the Islamic world by Nigerian terrorist group, Boko Haram, especially in the manner they are serially raping the over 276 Christian girls abducted in April and another set of over 250 abducted from towns and villages near Chibok. Jihad is a war fought by Muslims to defend or spread their beliefs. It is a war fought to bring more converts to Islam. Extremist Muslims attack western interests as a form of Jihad. However, a new Jihad which uses penis, sex, rape and abduction of teenage girls as weapons of warfare has been introduced into human history by Nigerian extremist group, Boko Haram.
"The first hint of what these Christian schoolgirls are passing through was when a little boy of 15 years, Baba Goni, discovered two of the abducted girls tied to a tree, raped and abandoned to die in the forest about a week after their abduction. The crime of those girls was that they refused to convert to Islam and terrorists raped them either unto conversion or unto death. According to Baba Goni, "I heard the girls crying and telling the others that they had been raped, and then just left there. They had been with the other girls in Chibok, all: taken from the school in the middle of the night by armed men in military uniform." Baba Goni also said that the villagers told him that "four were dead, shot by their captors for being stubborn and uncooperative."
Continuing further in that piece I revealed that:
"Few days later a few girls escaped from the camp of the religious rapists and narrated that they are being raped up to 15 times in a day. According to Oladimeji Thomas, a Christian Councilor working with other groups to help the traumatized victims,"one of the girls I interviewed told me that she was raped 15 times by 15 men in a day." Going further Oladimeji said that "…it is obvious the girl needs to be managed. She looked confused. She found it hard to talk to me but after much prodding; she confessed to me that she was raped 15 times a day by 15 men throughout the time she was with the Islamic insurgents before she could escape from their den."
"Weeks later, another escapee Christian girl who was earlier kidnapped some months before the Chibok abduction, narrated her experience in the hands of the terrorists. The lady named Rosemary (surname withheld to avoid victimization) who was captured months earlier around Maiduguri, but fortunately was able to escape from Boko Haram, somewhere near Bama, spoke to newsmen while lying on a hospital bed that over seven men slept with her every day for over two months".
Boko Haram captured leah Sharibu under Buhari regime. The government negotiated the release of the rest of the Dapchi school girls and abandoned Leah Sharibu to be used as sex slave by Jihadists. The result of the sex slavery is that a Christian school girl who refused to renounce his faith and his God, got rewarded by gang rape and baby boy came out of the Jihad waged upon a defenseless school girl with Penis . The church leaders, of which I am one, are still sermonizing about faithful girl in the hands of Penis Jihadists instead of shutting down government until Leah Sharibu is released.
Now Vera Uwaila has been raped in a church, a foremost Pentecostal church, managed by a revered cleric, Pastor Enoch Adeboye. It is very urgent to discern the times Nigeria is unfolding into. The church should rise up in unison and demand for the release of the few Chibok girls still alive, though according to our intelligence, most of them have been raped to death. The blood of the Chibok girls will be on the head of the perpetrators, sponsors and moronic government and populace watched without empathy.
The church should demand for the release of Leah Sharibu even if a whole division of the Nigerian Army will be sent to the camp of the Penis Jihadists or else another Leah Sharibu episode will ensue.
The church should equally ask God to fish out the assailants, rapists, filmists, photographists, conspirators, privies and brutal murderers of Leah Sharibu as a matter of urgency. From Chibok Girls to Leah Sharibu to Vera Uwaila, including hundreds of abducted young girls to rape in the church-Who knows where the agents of darkness will strike again.
Jihad of the Penis has begotten Rape in the Church; let us all act fast before another abominable disgrace sets in.
Obinna Akukwe, columnist, [email protected], @obinnaakukwe