NPP Primaries: Selection Process Undemocratic — Arthur Kennedy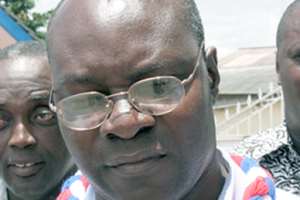 Dr Kobina Arthur Kennedy
A one-time presidential aspirant of the ruling New Patriotic Party (NPP), Dr Kobina Arthur Kennedy has described as undemocratic the manner and way some candidates were selected and shield from facing opposition contest in the party's upcoming internal elections.
The conduct of the party he said, "by definition is outright undemocratic."
The US-based politician said this on TV3's Hot Issues on Tuesday, June 9.
"No democratic organization should discourage potential opponents of people it wishes to protect," he stated.
His outburst follows the numerous agitations and protests by disgruntled party members who vowed to vote shirt and blouse. Others took their grievances to the deities amid sacrifices of sheep to invoke curses upon the national leadership for shielding their 'favourites.'
The party has cleared 65 candidates – mostly sitting members of Parliament – to go unopposed in the upcoming June 20 primaries.
But Dr Arthur Kennedy said no incumbent would need protection if they have invested in good works in their respective constituencies.
"The best protection for an incumbent is a good performance. But whenever an incumbent is afraid of competition, then it is a self-confession that he might not have done as well as he is claiming. I mean some of the things that we have done could have been done better."
Dr Arthur Kennedy said the party is only democratic on paper.
---with files from 3news