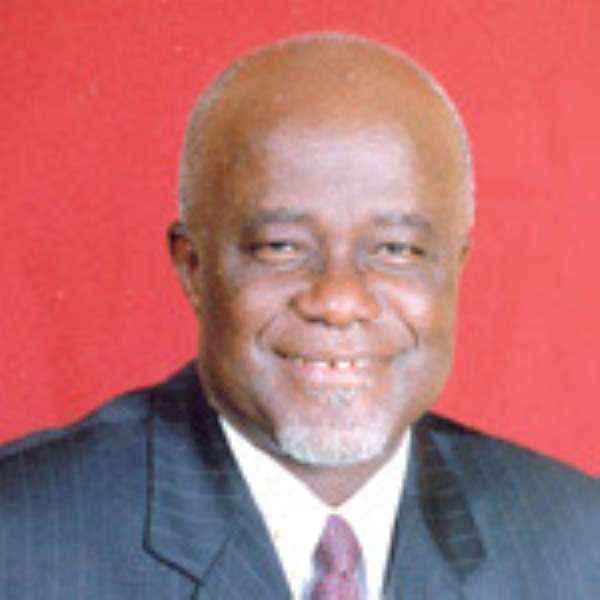 Hackman Owusu- Agyeman
As the heat of the successor race for the New Patriotic Party continues to gather momentum and has become more keen with interesting political revelations been floated out, "The Chronicle" newspaper's random sampling among some of the party delegates, who would assemble at the partys congress to elect a candidate to propel the party to victory, have rated Mr. Hackman Owusu Agyemang high.
The delegates told this paper in clear terms that the Minister of Water Resource, Works and Housing, who demonstrated his commitment to his party, should be given the mandate to lead the party to victory if indeed the party wanted to retain power in 2008.
The interviewees mentioned competence, commitment to the partys cause, and his performances in the three Ministries that he had and currently heading, namely, Foreign Interior and currently Water Resources, Works and Housing, would serve as yardsticks to measure his credentials.
The Ashanti Regional Youth Organiser of the NPP, Kennedy Kankam, lauded the Minister for his achievements coupled with others.
If you look at his track record as a business man, as somebody who worked at the UN, somebody who is committed to the partys activities with the view to ensuring that the party retains power in 2008, I think that Hackman is the best man for the NPPs flagbearership.
Mr Kankam, who is also Nhyiaseso Constituency Organiser, stated that, They should give him the chance because of his ability, capacity and performance. If we are to vote today, I am sure that we shall all vote for him.
To him, it would be very unbelievable that the aspirant, who he described as outspoken, could not win the race. He also underscored some effective roles played by Mr. Owusu Agyemang in the formation of the NPP and hence he should be given the chance to lead the party. According to him, he, together with his executives, share similar views about the Minister and indicated various pointers that proved that indeed the Minister was making serious incursions into the race.
On his part, Mr Emmanuel Nyarko, La Dadekotopon Constituency Organiser in the Greater Accra Region, said the Minister falls into the category of people that the party members were looking for. The party needs somebody with international exposure and Hackman, with his both international and domestic exposures, should lead the party.
Going beyond delegates, when three Members of Parliament were contacted, all seem in favour of the Housing Minister. You know, the day is not announced yet but when you look at the aspirants, they are all qualified. Some of us think that Mr Owusu Agyemang tops the pack based on his achievements.
You know; Hackman as a party man, business oriented man, a diplomat and a committed party member, is the candidate to lead the party, one MP said, adding that, We need a candidate who is very conversant with both international and domestic politics.
Audio File Available