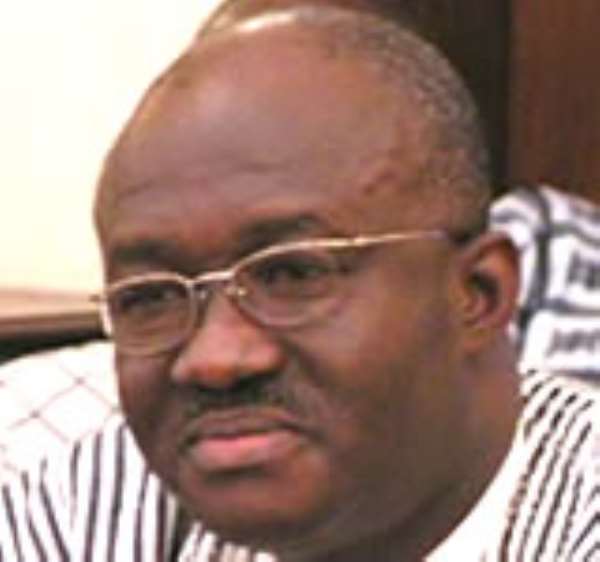 Ghana has reiterated its commitment and readiness to assist the Liberian Government and its people in their reconstruction process, especially the restoration of electric power back into the war-tone country, which has been in total darkness for more than 20 years.
Ghana's Energy Minister, Joseph Kofi Adda, who gave the assurance in Liberia when he cut the sod to begin the erection and installation of an Emergency Power Programme dubbed "EPP I" said it was Ghana's interest and desire to do its best to assist the process".
He said energy was a critical component of every nation's minimum requirement for development, adding; "industry, commerce, agriculture, education, internal security and improved conditions are all dependent on energy".
The Volta River Authority (VRA), Ghana's public electricity producer, is implementing the programme, which include training the staff of the Liberian Electricity Corporation.
The Phase I is estimated at 7.2 million dollars with 3.1 million dollars assistance coming from the Government of Ghana through disbursement from the European Commission. The US Government is providing 3.0 million dollars and the Liberian Government absorbed the remaining 0.9 million dollars.
Mr Adda said the EPP I would cater for Kru Town and Congo Towns by supplying electricity to public institutions such as hospitals, schools and government ministries.
He reminded Liberians that the ravages of conflicts were very costly but infrastructure was what made a country an attractive destination for investment so they should all with one mind and heart join together and support the project.
Inspection at some of the construction sites where VRA officials and some Ghanaian workers were carrying out the installation together with LEC showed that work was progressing steadily with much expectation to complete ahead of time.
The Minister urged the workers to work hard to restore power to Monrovia on July 26, 2006, which marked Liberia's Independence Day.
"I can see you are doing very well but work harder and faster to ensure that you do everything mechanically possible in order to supply power to the people of Liberia. More importantly we are doing this for all of us as Africans," he urged the workers.
Mr Adda donated 150 dollars to the workers and advised the Ghanaians among them to always lead exemplary good lives in Liberia so as to lift the name of Ghana high.
The Project Coordinator, Erick Yankah, said the initial work for the project started about three years ago at the time of the Transitions Government when the VRA visited Liberia and carried out a prognosis of the state of affairs.
He said the examination showed a terrible state of affairs as far as the power supply situation was concerned adding that the two thermal plants that were completed in 1989 were completely ruined.
Mr Yankah said the new project would produce power at 240 volts instead of the former 110 volts to enable Liberia to join the West African Power Grid.