NPP Primaries: Amanfrom Chief, Elders Invoke Blessings On Eric Amofa For Victory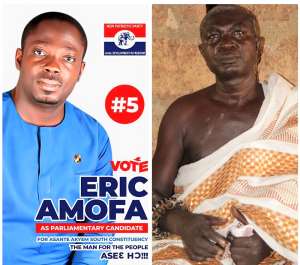 The Chief and elders of Amanfrom in the Asante Akyem South Municipality have commended Mr. Eric Amofa, an Aspiring Parliamentary Candidate on the ticket of the New Patriotic Party (NPP) for his workable vision to develop the constituency, and pledge to work with him when emerged as a winner.
The Chief of the area, Nana Adu Gyekye described Mr. Amofa as his 'adopted' son who continues to support the development initiatives of the community.
Apart from attending their community fundraising durbar, Mr. Amofa, the Chief disclosed, had recently donated towards the construction of their community centre.
Nana Adu Gyekye who is also the Nifahene of the Banso Traditional Area blessed Mr. Amofa when his campaign team paid a courtesy call on him.
Nana Gyekye and his elders poured libation to invoke the blessings of God and the ancestors of the land to lead Mr. Amofa to realise his vision as the next MP for Asante Akyem South Constituency.
The Queen Mother of the area, Obaa Hemaa Afi was surprised about how Mr. Eric Amofa had redeemed his promises to the community beyond their expectation.
She commended the NPP Parliamentary Aspirant for recognising the important role the traditional authorities play in shaping the political discourse in their communities; and had thus come to seek their blessings.
Conversely, Mr. Eric Amofa and his team also called on Nana Kyei Ababio, the Paramount Chief of Banso Traditional Area, where he also received the blessings of the Chief.
Mr. Amofa earlier on also visited the Paramount Chief of Juaso Traditional Area, Nana Asafoakaa Agyei Tabi to ask for his blessings, advice and direction for a successful parliamentary bid.
His visit to the chiefs is mainly to discuss some of the development challenges and how he [Amofa] could work together with them [chiefs] when voted into power as Member of Parliament.