Edo 2020 Special: Will Governor Obaseki Return For A Second And Final Term As Chief Executive?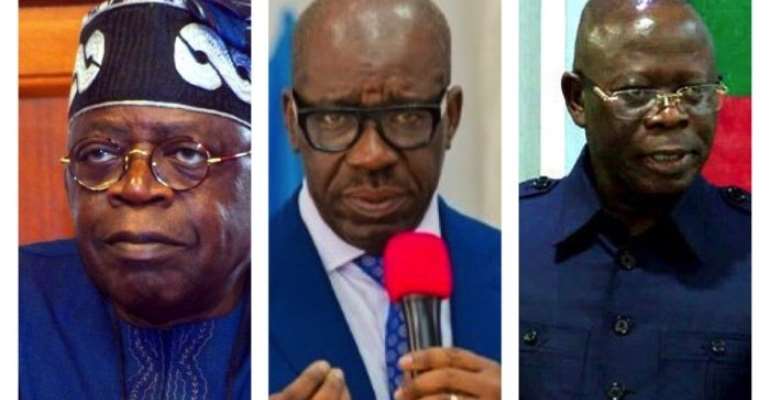 Last week, I referred to Mr. Godwin Nogheghase Obaseki as Gov. Andrew Obaseki of Edo State. It wasn't inadvertent but a zinger comparing him to "Andrew No Check Out" NTA advert about patriotism in the 1980s during the first coming of Gen. Muhammadu Buhari as military strongman. Andrew was the name given to late actor Elenubuwa who played the role of a patriot fed up with Nigeria and wanted out. Many of today's Nigerian youth may not understand. We shall come back to that presently. In this column in the past, the Holy Spirit has used and still using us to prophecy about the political futures of many politicians not only in Nigeria, but elsewhere as He deems fit when we seek His Gracious Face. On Tuesday, October 23, 2018, we wrote in this column that Gov. Akinwumi Ambode of Lagos State would not return for a second term, even though he had performed creditably as chief executive of the Center of Excellence. Here is the link:
(https://nigeriaworld.com/feature/publication/fayemiwo/102318.html ). A year earlier on Friday, January 06, 2017, we had disclosed pointedly thus: "LAGOS STATE: -Gov. Akinwunmi Ambode has performed creditably so far, a worthy successor to former Gov. Raji Babatunde Fashola but as we disclosed in this column in 2014 before the 2015 Governorship Election, political forces will come between him and Asiwaju Bola Ahmed Tinubu which will threaten Ambode's re-election in 2019…" Again, here is the link: ( https://nigeriaworld.com/feature/publication/fayemiwo/010617.html ). When I told some of his aides then, they thought it was a joke and the rest is history.
There were other prophecies published here about the futures of other politicians; from late Abubakar Audu of Kogi State, Kayode Fayemi of Ekiti State, Udom Emmanuel of Akwa Ibom State, Gboyega Oyetola of Osun State, events in Ghana, Jammeh's ignominious removal in The Gambia etc to the recent dethronement of Mr. Lamido Sanusi as Emir of Kano and several others. This week, we want to remind our readers on what we prophesied about Edo State as then Gov. Adams Oshiomhole was about to round off his second and final term and was shopping for his successor. On Saturday, January 2, 2016 we wrote in this column that whoever Oshiomhole chose would succeed him as governor, but we advised him to look beyond his party, the APC in choosing a successor, because there would be betrayals and back-stabbing ahead. Here were our very words four years ago in this column on Edo State:
"We disclosed earlier on in this column that whoever hitches his or her political wagon to the incumbent and soon to become the outgoing Governor Adams Oshiomole of Edo State will succeed him. That hasn't changed. But Gov. Adams Oshiomole too should not be cocooned and completely teetered to his political party in supporting his successor. He should look outside the political box of the APC, because we can see a young man from the Diaspora, completely apolitical but very savvy and entrepreneurial entering into the 2016 Edo State Gubernatorial Election and wowing all his opponents and the Edo State people. I haven't been categorically told that this young man will win the election as at the time of this column. I will disclose his name as soon as the Holy Spirit commands me to do so. As I have indicated in the 2014/2015 Prophecies for Edo State, the new Edo State Governor will oversee the installation of a new monarch in Benin City as his first public official function as Edo State new helmsman in 2016…" This is the link: ( https://nigeriaworld.com/feature/publication/fayemiwo/010216.html ).
There was a young man who refused to keep date with destiny, because he lacked the wherewithal and also was not serious about his ambition and Obaseki carried the day. Now we are inching to the forthcoming June 22, 2020 governorship primary election of the ruling APC in Edo State. The swirl of controversies surrounding direct or indirect primary is a moot point, for whatever system or mode of primary, I am telling Gov Obaseki and his supporters that the governor will lose. A lot of ground has been lost and plenty of water has passed the bridge. Gov Godwin Obaseki should forget about the APC governorship ticket for 2020 Edo State Governorship Election as my prophecy declares. But here is the good news; we see Gov. Godwin Obaseki ruling Edo State for his second and final term as governor, but not under the platform of the APC, if he implements 7 Spiritual Formulae contained in the Word of Life. It is called the Jehoshaphat Victory as recorded in 2 Chronicles 20. Here is the aorta of the 7 Formulae for Political Victory against formidable enemies that Obaseki is facing in the Heartbeat of the Nation: ""Our God, will You not judge them? For we are powerless before this vast army that comes against us. We do not know what to do, but our eyes are upon You, O Lord." On Friday, May 10, 2019, we disclosed in this column on our prophecy titled: "Exclusive! Alhaji Lamido Sanusi, Emir of Kano Has 90 Days on the Throne Unless…" See the link to that prophetic utterance as published in this column: ( https://nigeriaworld.com/feature/publication/fayemiwo/051019.html ).
If Gov. Godwin Nogheghase Obaseki of the APC is seriously desirous of finishing his second and final term as chief executive of Edo State from 2020 to 2024, he has 90 days to implement the Jehoshaphat 7 Formulae for Political Victory in Edo State as our prophecy declares.
Dr Moshood Ademola Fayemiwo is the Spiritual Head & Founder, The Jesus Christ Solution Center, based in Cameron, TX USA. Call him at this number: 254-605-4035. You can also send him email at [email protected]