A Quick Note To Awula Serwah Asante - Who Founded The Eco-Conscious Citizens Group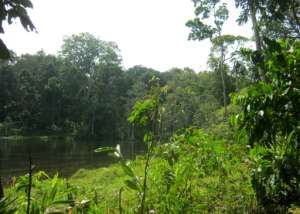 Dear Awula Serwah Asante,
Thank you so much for your passion for conservation - and your consistent activism to save the remainder of Ghana's natural heritage: including the Atewa Forest Reserve.
Awula Serwah, perhaps, if some of the environmental activists in our country, made hiking in great-outdoors-environments, such as our rainforests, vital parts of their exercise-regimes, it would free them from all the individual-freedom-limiting COVID-19 social-distancing-protocols, which those who exercise in gyms across Ghana, now have to observe.
The beauty of trips to hike in privately-owned rainforests is that such visits would quickly result in galamsayers, illegal loggers and illegal hunters vamoosing, pronto.
The reason for that, is because decent money would be paid to locals acting as guides, by visiting healthy-lifestyle-focused groups, such as: East Legon's, and McCarthy Hill's, exclusive executive keep-fit clubs' members; corporate team-bonding groups from corporate Ghana; and, environmental activist groups, such as your very own Eco-Conscious Citizens group, for example.
On the ground, in some fringe-forest forest communities, such regular decent-green-income-receipts, would simply mean that local youth would no longer feel the need to collude with the greedy criminal-types, currently destroying forests across Ghana - because they can earn some decent money regularly, as forest-hiking-guides and community forest guards.
That is one of the most practical ways to help protect the Atewa Forest Reserve. It might also interest you to know that in 2006, the US aluminum giant, Alcoa, paid for a rapid assessment survey, to be carried out in the Atewa Forest Reserve. The results and recommendations of that survey are available online at: RAP Bulletin No. 47.
Speaking personally, it so happens that part of my family's freehold 14-square mile upland evergreen rainforest property, in the Akyem Juaso section of the Atewa Range (a total of 99.6 acres of our land lies inside the Atewa Forest Reserve - and is referred to in the Forestry Commission's Forestry Service jargon, as an admitted farm) was included in that rapid assessment survey, by Conservation International. There is actually a pillar erected by Conservation International's researchers, during that rapid assessment survey in our property.
Our land lies in the heavily-wooded slopes of the Atewa Range. As it happens, there are unique and rare flora and fauna there, which are not found anywhere else in the world. Mr. Eugene Kofi Boakye-Yiadom, the brilliant and hardworking CEO, of the famed Legon Botanical Gardens, will confirm to you that it is indeed one of the most beautiful places he has ever been to, anywhere, on the surface of the planet Earth. So, as we say in Ghanaian pidgin English: "Over to you Joe Lartey!"
Thanks.
Kind regards,
Kofi.