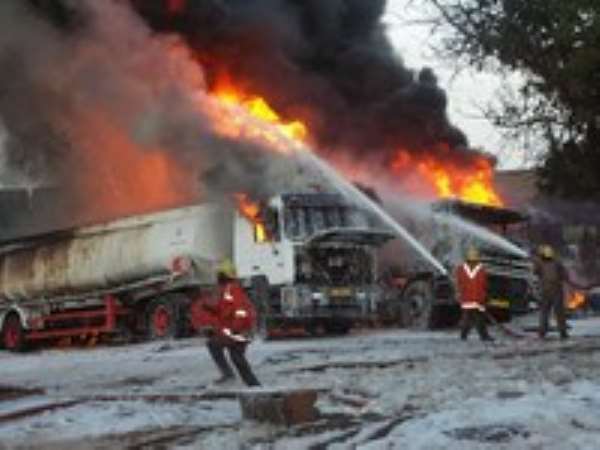 Firemen Busy At The Scene
The jubilation that followed the Black Stars' victory over the United States of America in the World Cup tournament on Thursday was temporarily halted around the Tema heavy industrial area when two petrol tankers caught fire.
The tankers, which were parked near the Bush Canteen near the STC yard, were among others waiting to receive fuel supply from the Tema Oil Refinery (TOR) for distribution.
One of the tankers, a DAF truck which had already taken its supply, is believed to be the first to have caught fire which spread to the other tanker.
Close to where the tankers were parked, there were cooked food sellers, khebab sellers, mechanics, welders and vulcanizers, among other facilities.
No casualty was recorded and the cause of the fire is being investigated.
It took 10 fire tenders and a joint team of fire fighters from TOR, the Ghana National Fire Service, Ghana Ports and Harbours Authority about one-and-a-half hours to bring the fire under control.
The police were on hand to control the large crowd that gathered at the scene.
An eyewitness, Isaac Senyami, told the Times that they were jubilating after the Ghana-USA match at about 4.30pm when they heard an explosion and then saw flames from that area.
He said other tanker drivers, quickly drove their vehicles away to safety.