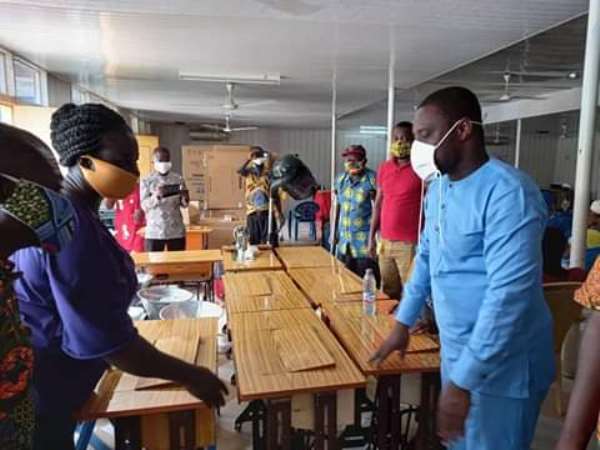 The Kwahu East District Assembly on Friday, June 5, 2020, presented various tools and equipment to people with disabilities (PWDs) in the district to enhance their economic wellbeing.
The Tools and Equipment presented include, Deep Freezers, Sewing Machines, Pop Corn Machines, Hair Dryers, Knitting Machines, Electronic Sewing Machine, Water Pumping Machines Cocoa Spraying Machines, Fufu Pounding Machines, and Wheel Chairs as part of efforts to support them to embark on small scale ventures.
Speaking at a short ceremony, Hon. Isaac Agyapong, District Chief Executive (DCE) for Kwahu East District Assembly said the objective of the government is to support PWDs to establish their own businesses for a sustained income generation.
This he said will ensure prudent use of the PWD component of the DACF while also preventing the PWDs from going to the streets to beg for arms.
Hon. Agyapong indicated that the Assembly had earlier presented cheques to 56 PWDs to support them with their education and medical expenses.
He also presented 300 pieces of nose mask to the PWD to help curb the spread of Covid-19.
According to him, this is evidence of an avowed response by the NPP Government to solve the problems and the needs of people with disabilities in Ghana and the NPP Government sees disabled people as very important people to the society.
The DCE said the NPP government led by President Akufo-Addo is poised to address concerns of disabilities in Ghana and urged the gathering to pray hard for President Akufo-Addo and the NPP government to enable them to keep the disabled in mind.
He, therefore, revealed to the gathering that the disbursement is in line with the guidelines of the District Assemblies Common Fund in which a percentage of the total amount transferred to the Assemblies is allocated to persons with disabilities.
He also entreated the beneficiaries to try to invest the money into productive ventures to help uplift their standards of living and welfare in society.
He again reminded them that there would be intensive and regular monitoring exercise to see how they were faring with the support received.
He took advantage of the atmosphere to commend the Member of Parliament (MP) Hon Bryan Acheampong for Abetifi Constituency for his kind gesture towards helping the Assembly.