Open Letter To Nigeria's National Assembly Leaders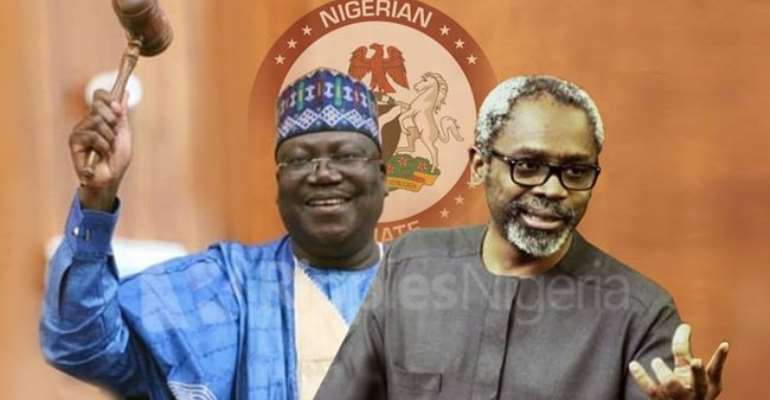 My dear Ahmed & Femi,
I write this open letter to the both of you, hoping that someone would stumble on it, and bring it to your attention. And I do also hope that you will appreciate the challenges the letter evokes, the need for you to rein back the country to self actualization, home from the dangerous forest in which it has continued to roam about, since it acquired self rule on 1st October 1960.
By the way, I am a London-based veteran journalist, author of 'The Presidential Years from Dr. Jonathan to Gen. Buhari" [Volumes 1 & 2], author of 'The Promise' and publisher of Imo State Business Link Magazine (Website: www. imostateblm.com)
It is well that I have continued to contribute in my own little way to chaperon Nigeria's democracy and I am delighted to know that Nigerian politicians can rely on my assessment of situations, trust my advice to them and rise up to the challenges it may thrust upon them.
Nigerian politicians have often been blamed for not getting it right. There are the seemingly intractable activities of Boko Haram and other insurgencies in the north and parts of the south. There is the menace of Fulani herdsmen which has begun to take on national dimension. There are kidnappings almost every day somewhere in both the south and the north. There are cult activities everywhere, especially in the south. There is massive unemployment of even university graduates. There is the epileptic supply of electricity and no clean drinking water in the towns and in the villages, even in the urban cities. The Water Corporations in most Nigerian cities simply disappeared at some point and house owners were expected to drill boreholes in their houses in the city. Those who could not drill boreholes were forced to scoop water for domestic use from nearby shallow wells or buy water from peddlers who roamed the streets. Even ordinary food to eat has become a luxury in Nigeria today. The people groan under a heavy yoke, suffering and smiling, as Fela Ransome Kuti would put it.
Politicians are blamed.
No one seemed to appreciate that the problem with the country was inherited by the first set of politicians from the first day Nigeria had independence. Everyone seemed to forget that right from the first day Nigerians had independence, the seed was sown for the wrong type of political dispensation. Over the decades, Nigerian leaders continued in that direction of political correctness, oblivious of the fact that the country could no longer continue to move in that direction without damaging its own very existence.
What we notice today in Nigeria was the result of a system that was enacted by the colonial masters, possibly, before Nigerian independence. There is a possibility that Britain knew that one way to keep Nigeria subdued was to encourage their people to play tribal politics while they presented a united front that was designed to deceive the people and even their leaders. That "need" to keep Nigeria in bits and pieces could have been the main reason the country was inadvertently manipulated into a civil war that cost so much in human and material resources.
Another name for that tribal politics is politics of power.
There was a possibility that Britain knew all this, but no one is sure beyond some of the evidences from eyewitnesses like Fredrick Forsyth titled "Buried for 50 years: Britain's shameful role in the Biafran war" reported in the Guardian newspaper edition of Tuesday 21 January 2020 and the letter written to the British Parliament by Lord Fredrick Luggard in which he said the division of Nigeria was going to be an effective weapon to keep the country subjugated.
Some people have blamed church and mosque. They say Nigerians are the most religious people in Africa, yet their faith has done nothing to save them. But the church and the mosque have nothing to do with this directly. It is purely a political issue that calls for a political solution.
The main problem with Nigeria started when the first politicians were introduced into the politics of power. At that time, we heard people talk of power. Ahmadu Bello, Tafawa Balewa, Obafemi Awolowo, Nnamdi Azikiwe, Okotie Ebo and the rest of them practised and paid glowing tributes to the Politics of Power. They inherited it from Britain but never suspected it was a diplomatic manipulation. Today, we still hear everybody talking of power.
Nothing has changed.
But my research shows that this Politics of Power is what stultified Nigeria from growing democratically and turned the country into a paradox – so that the richer the country is, the poorer the citizens are. It is this brand of politics that is at the root of the series of rapes that have become the curse of Nigeria today. It is this brand of politics that is behind the impunity of Fulani herdsmen in Nigeria today. It is this brand of politics that is behind every insurgency that has continued to challenge the country and its leadership. Even the official corruption that has been blamed for Nigeria slanting towards a failed state is as a result of Nigerian politicians practising the Politics of Power. America is in flames today because President Donald Trump shifted from Obama's eight years politics of service delivery to his own four years politics of power. So, Nigerians need to move from that brand of politics to politics of service delivery, if they want to save their country.
They should also know that the twin evil of tribalism and military incursion into the democratic evolution of Nigeria is helping in no small measure to stay the Politics of Power.
If we take a cursory look at other progressive democracies, we find that they moved from Politics of Power to Politics of Service Delivery. And that is what Nigeria needs to do, to put itself in the rightful position in the comity of African nations and the world. Nigeria needs to move from Politics of Power to Politics of Service Delivery.
This will probably involve a complete change, or drastic amendment, of the country's current constitution. Nigeria's present constitution was drafted by the military under the late General Sani Abacha and it did not exactly address the issue of Politics of Service Delivery. And that is why the country has had to experience consistent protests on restructuring and resource control over the years. That constitution needs to be changed or seriously amended to capture the only form of democracy that will bring relief to Nigeria. If necessary, a new constitution could be drafted from start to end by a constitution drafting committee comprising of people from all relevant walks of life, representing every legitimate interest in the country. The National Assembly should visit this need with the political expediency it deserves.
Secondly, to transform the various tribes that make up Nigeria into one united and indivisible nation, what the National Assembly needs to do is to plan ahead, to stay one step ahead of the rest of us. For instance, there is evidence that the language of a people is the bedrock of their custom and tradition. A people will embrace and welcome anyone who speaks their language more easily than anyone who doesn't. So, the National Assembly should summon the political courage to legislate a law that will make it compulsory for every primary school across the country to teach Nigerian children the three main Nigerian languages, Hausa, Igbo and Yoruba. In less than 10 years, every Nigerian child would be speaking the three main languages and the bridge would have been built, not only to integrate an all-embracing national spirit, but also forestall the suspicion that the Fulani have an agenda to run over the south and enslave them in their own country. If such a law is passed, in under 12 years, the country should be getting positive results.
The PDP as the Shadow Government should take the lead now by challenging the ruling APC to transform the country from the brand of politics they inherited at independence to modern politics. Already Professor Benedict Ayade of the PDP is doing just that for Cross River State. He has become the leading light for the PDP and the ruling APC. And all other states, whether they are APC or PDP, should be able to take a queue from him.
If the political parties in Nigeria see the need to save Nigeria from self destruction, they must begin now to think seriously about changing their brand of politics from Politics of Power to Politics of Service Delivery. The result would be amazing and tremendous. Apart from leading African nations confidently, the influx of Nigerians and nationals of other African countries into Europe and America would be drastically minimized. Nigerians would stay home and develop their own country because, at the end of the day, go east, go west, home is best. Nigerians who have lived their years out in Europe and America would find a reason to return home proudly Nigerians to help in the development of their own country. And above all, Nigeria will experience peace and real prosperity for the first time since independence.
God bless our dear Nigeria.
By Chief Emeka Asinugo, KSC