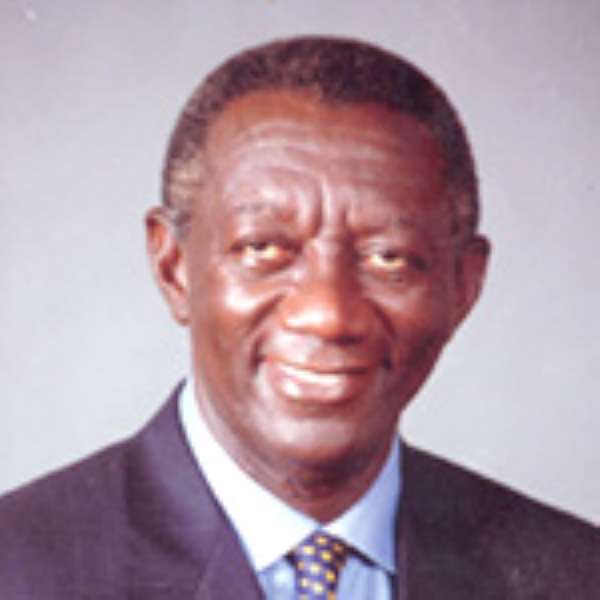 President John Agyekum Kufuor
Ghanaian President, John Agyekum Kufuor has called on Public Servants to trust the Government's sincere commitment to resolve problems and distortions bedevilling the Ghana Universal Salary Structure (GUSS) through the development of a comprehensive pay programme.
This, he said, would ensure that there was equity and fair wages to commensurate with work done. "While the Public Sector throughout the world does not earn the same as the private sector, there should be a healthy relativity between the two sectors", President Kufuor said when he addressed the national durbar to climax the weeklong celebration of the Public Service Week at the Accra International Conference Centre yesterday.
The theme for the celebration was: "Effective and Efficient Service Delivery in Public Services - Challenges and Prospects."
He said the Government was working towards a standard that would be planned and budgeted for to make sure that the Public Sector arrived at its target of reasonable pay for all of its personnel on sustainable basis.
President Kufuor said the lack of capacity, inadequate remuneration, corruption, inappropriate technology and inefficiency, common to the Public Service in many African countries, had become barriers to effective implementation of government programmes and policies. For the Continent to make headway in its socio-economic development agenda, these needed to be tackled and resolved. He said it was to focus attention on addressing these problems that the African Union had instituted the Public Service Week.
President Kufuor noted that the political class of Government "comes with a vision whose implementation depends on the commitment of the Public and Civil Services." He, however, observed that for sometime now, there had been a serious disconnection between the two, something, which tended to distort the vision that the Politicians and Public Servants should share for purposeful development.
The Public Sector reform embarked on by the country, he said, should, therefore, aim at restoring the link and mutual trust. A successful reform should equip the Service to enable it to implement loyally, development plans and strategies of the Government of the day without the tarnish of undue politicization.
President Kufuor said the moment had arrived for Public Servants to redefine their individual and collective responsibilities, adding that hiding under anonymity and security of tenure should no longer be encouraged.
Dr Paa Kwesi Nduom, Minister for Public Sector Reform, spoke of the need for better leadership in the Public Service, the type that would focus on timely and high quality service delivery.