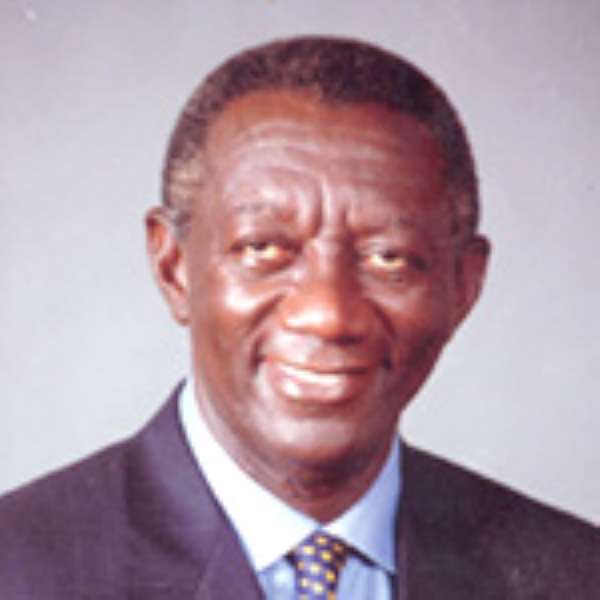 President John Agyekum Kufuor has challenged Chiefs of Defence Staff (CDS) of ECOWAS countries to re-establish discipline within the military to prevent anybody from using it as a shortcut to assume political power.
He said the military must not meddle in politics because it was its duty to protect the constitution and the territorial integrity of their countries while at the same time ensuring peace and stability.
President Kufuor threw the challenge when the ECOWAS Chiefs of Defence Staff paid a courtesy call on him at the Castle, Osu, Accra on Thursday.
The Chiefs of Defence Staff were in the country to attend the 16th ECOWAS Defence and Security Commission in Accra where they discussed the establishment of the 6,500 permanent standby force within the sub-region by 2010, among other things.
The call comes at a time the sub-region had been plagued in the past with numerous military overthrows of constitutionally-elected governments.
President Kufuor said although the problems seem to be abating, there was the need for the Chiefs of Defence Staff to be at the forefront to promote the values of ECOWAS by being steadfast to prevent any unconstitutional acts.
"The region is crying for development and the world is looking at us," he noted.
President Kufuor said "our continent has been described as a scar on the world because our people suffer poverty and disease and we are incredibly handicapped."
He said it was unfortunate that while the continent continued to battle these odds, "the military continues to worsen our plight."
The President, therefore, questioned how the military could help to keep the image of the sub-region and the continent high.
It is on record that most of such military interventions had been caused by people outside the regular military and this, the President said, was the reason why the regular military needed to be more resilient.
President Kufuor reiterated that the military high command needed to ensure that their image was redeemed by preventing people from using it as a shortcut to assume political power.
He said the military was a professional group and must be seen as such at all times.
President Kufuor expressed the hope that the permanent standby force for the sub-region which is about to be formed will live up to expectation and that each country would contribute troops and its logistics to make it achieve its objectives.
The new chairman of the commission, Major General Moumouni Boureim, the Chief of Defence Staff of Niger, briefed the President on issues discussed at the meeting by the commission members, which included the formation of the 6,500 permanent standby force for the sub-region.
He pledged the commitment of the commission to play its role in ensuring peace and stability on the continent.