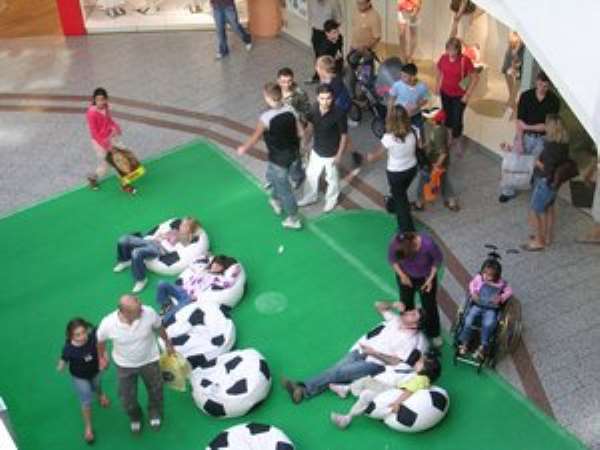 A chef presents Czech dishes at the Moscow Hotel in Deira. Virendra Saklani/Gulf News
Dubai: Like everywhere else in the world, football fever has gripped Dubai as well. Wherever you go there is talk about the day's matches, predictions about upcoming games, playing strategies and anything else you can possibly imagine related to the sport.
Keeping in mind this mania that has hit Dubai fans, Gulf News decided to keep its football-obsessed readers updated on other intriguing World Cup related information. And of course, topping the list is what we call 'Fifa food.' Yes, if you can't have enough of your favourite football teams, why don't you go ahead and sample some of their exotic cuisine available in Dubai.
Here are some of our picks:
Czech Republic
Ranked second in the world, the Czech team is expected to spring some surprises this World Cup with many supporters believing this year's team to be the best they have ever had.

And although the Czech team's 2006 qualifying star Tomas Rosicky is nicknamed ?dumpling' after his favourite food, Czech cuisine is more than that. Also available at the Moscow Hotel is Czech cuisine prepared by Chef Shavkyat. A specialty, the Slavonic Style Ribs are steamed with celery and vegetables such as carrot and tomatoes.
The ribs are then grilled with spices such as rose pepper. Served with fried young potatoes, the ribs - wrapped in fresh spring onion and garnished with paprika - are accompanied by a blackberry sour cream. The Czech dish costs Dh52.
Ghana
Although the Ghanaian team didn't get off to a good start this World Cup they eventually came through and many of Dubai's fans are supporting these underdogs who are making their first appearance at the 2006 World Cup. To try some of their cuisine, visit the African Home Restaurant located at the Al Hili Hotel on Naif Road.
Available here is everyday Ghanaian cuisine, says Nabeela Bakare of African Home Restaurant. A Ghanaian plate commonly includes food items such as Omutzuwu, okra stew and tilapia fish. "Omutzuwu are basically rice balls. The rice has been boiled and mashed," explains Nabeela. With the Omutzuwu is the okra stew - plain boiled slightly sticky okra (lady's finger) vegetable. Though the food may seem bland initially, it is spiced up with the Tilapia fish gravy.
"Called Eja in the Eyuroba dialect of Africa, the tilapia fish is made in tomato sauce but is also spiced with salt, pepper and red chili," explains Nabeela. A staple of Ghanaian diet, tilapia is native to many lakes and rivers of Africa.
At the African Home Restaurant, tilapia fish - marinated in curry spices and fried - is also served with ? deep fried banana slices. Each Ghanaian food plate costs approximately Dh15.
Angola
Angola's captain Akwa - the country's scoring hero - recently summed up Angolan football participation: "We have proved that Angola is not just about oil, war and poverty." Angolans believe it is also about cuisine. Available at the African Home Restaurant is also some authentic Angolan food. According to Nabeela Bakare, stock fish or makayabu - dried and salted - is cooked in a tomato-based sauce.
"This is served commonly either with the samol or with some fu fu bon bon," says Nabeela. Samol is semolina - coarsely ground corn flour cooked in water. In many parts of the world, semolina forms the basis of good pasta. In Angola, it is eaten in a more basic form. Fu fu bon bon refers to another side dish eaten with the makayabu. It is made of the cassava plant, dried and ground which is mixed with water and boiled. At this restaurant, each Angolan dish costs about Dh15.
Ukraine
Although first-time finalists Ukraine were the first team from Europe to secure qualification for the World Cup 2006, whether they make headway is yet to be seen.
Ukrainian cuisine can be found at the Moscow Hotel on Al Maktoum Street. Named after Kiev - ?Chicken a la Kiev' is cooked the traditional Ukrainian way. This, according to executive chef Yassynov Shavkyat, implies that though there aren't too many spices yet an exotic flavour remains. It is made up of a breaded breast piece attached with a wing and lightly stuffed with butter. Served along with mashed potatoes lightly mixed with eggs and milk, it is also lightly garnished with parsley. The dish costs Dh42.
Tunisia
As one of the only two Arab nations to have made it to the World Cup 2006, Tunisia has seen a lot of support here. To try some of their excellent cuisine visit the Al Malouf Restaurant located behind Al Ittihad Road. Available at Al Malouf, is one of the specialties of Tunisian cuisine - the couscous.
Made of steamed semolina, it is served with various kinds of meat or fish. Tunisian specialty of couscous usually contains lamb. The lamb is cooked with carrots, courgettes, capsicum and potatoes in a tomato-based paste. According to Tunisian chef Fati Dridi, the couscous is often served with the marka - a tomato gravy with courgettes. "The couscous is usually not very spicy but some Tunisians also eat it with harissa, a chilly-based [chutney]," says Dridi. A plate costs approximately Dh40.
DINING OUT
Other places to check out for some
Fifa World Cup Cuisine include:
De Gama - Portuguese restaurant at The Aviation Club (04 282 3636)
La Parrilla - Argentine cuisine at Jumeirah Beach Hotel (04 348 0000)
Der Keller - German cuisine at Jumeirah Beach Hotel (04 348 0000)
Silla - Korean restaurant at the Ramada Continental Hotel (04 266 2666)
Pachanga - Brazilian cuisine at the Hilton Dubai, Jumeirah (04 399 1111)
African Home Restaurant: 04 2242533
Moscow Hotel: 04 2288222
Malouf Restaurant: 04 2975559