Democracy and/or Crimes on Trial In America. A test of Justice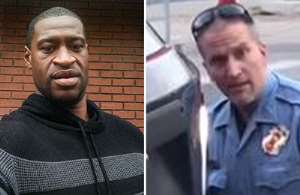 Today is June 4, National Day of Mourning in America. Let me use this medium to join advocates around the world to mourn and commemorate the life of George Floyd and all those who died in suppression & depression & in violence.
Distinguished human rights advocates and solidarity forces of Justice for George Floyd, a 46-year old black unarmed man who was a security guard killed from neck compression by a Minnesota Police called Derek. Yesterday, I wrote an article on Justice for George Floyd disagreeing strongly with the Minnesota State Justice System on the charges levied against the murderer Derek (Third Degree Murder & Manslaughter). In that article, I argued that the Attorney General of Minnesota didn't do well in the charges pressed against Derek, it should have been Second Degree Murder according to crimes & corrections observation & the state's law on murder cases.
My argument was full of logic & comparative analysis. Interestingly on Wednesday, June 3, 2020, in the afternoon, Keith Ellison, the attorney general of Minnesota, announced upgraded charges at a news conference that entangled Mr Derek Chauvin in which he committed Second Degree Murder, while three other officers, Thomas Lane, 37, J. Alexander Kueng, 26, and Tou Thao, 34, were charged with aiding and abetting murder, court records show. Mr Kueng was in custody on Wednesday, county jail records showed. This is a sign of victory of my advocacy and a victory of George Floyd's family and all solidarity forces. But this isn't enough to eradicate racism and anti-black in America.
1. Black vs White:
Without fear and compromised analysis, the trend of living in America currently is dangerous as whites are now seeing blacks at their various workplaces as enemy (ies), destroyers, & slaves. Blacks are no longer secured in America currently. They're being hunted & bully in an uncomfortable manner. Even amongst the protesters in various states, the police are using force against black people at seven times the rate of whites. This is unfair and every well meaning social justice
advocates must stand strong against the creeping dictatorship in the US & massive racism against people of color.
America has proven to be the mother of Democracy in the world, but I think in my mind it is a fraud literature cliche & has no iota of truth/substance on the world stage. Blacks are being suppress by White supremacists just because they're BLACKS. This is ludicrous, inconsequential, & deleterious. I'm constrained to denounce & depose the motion that blacks are causing havoc in the US currently. Those who claimed to be more American than the others are the progenitors of the real injustices in America. Blacks are the real heroes & heroines of social justice in America. Respect them!
2. Black vs President Trump:
For the record, I'm not against President Trump as a human being, but I'm totally against his utterances against the Black community. His statements have proven clearly that he's a racist. I follow him via Facebook and Twitter as well. I have seen and analyzed many of his tweets that do Not represent a world leader. A flashback, President Trump once tweeted false statistics claiming that African Americans are responsible for the majority of murders of white Americans, and in some of his past speeches he has labelled & linked African Americans and Hispanics with violent crimes. This is wrong on his part.
According to historical documentation, & legal reference, in 1973, President Trump and his company Trump Management were sued by the Department of Justice for housing discrimination against African-American renters; he settled the suit, entering into a consent decree to end the practices without admitting wrongdoing. The Justice Department sued again in 1978, claiming continued racial discrimination in violation of the consent decree, but that settlement agreement expired in 1982, ending the case.
From 2011 to 2016, President Trump was a leading proponent of the already-debunked "Birtherism" conspiracy theory claiming President Barack Obama was not born in the United States. In a racially charged criminal case, Trump continued to insist, as late as 2019, that a group of black and Latino teenagers were guilty of the 1989 rape of a white woman in the Central Park jogger case, despite of the huge evidence provided.
Source: trueactivist.com .
President Reagan once said that America is the one place on earth that is not about a birthright," he said. ''It's about the ascent to an idea, an idea that was written in one of the most important sentences ever written in the English language, that all men were created equal and were endowed by their creator with certain inalienable rights. "We didn't apply that fully then. We haven't applied that fully now. But that journey toward a more perfect union is the story of the country."
These are birth principles on which America was founded, but current days leaders are in gross violation of these laws. Accord blacks the equal constitutional rights. They're human with red blood running in their body/(ies) like Whites. Their colours must be respected! President Trump is the President of all Americans and concomitantly the President of the world, his utterances should be equal void of segregation. When he speaks, all Americans should feel secured & protected against discriminations. This is the America we all love and believe in.
I rest my pen!
Justice for George Floyd