Mahama's NDC Is Guilt-Tripping The Electoral Commissioner!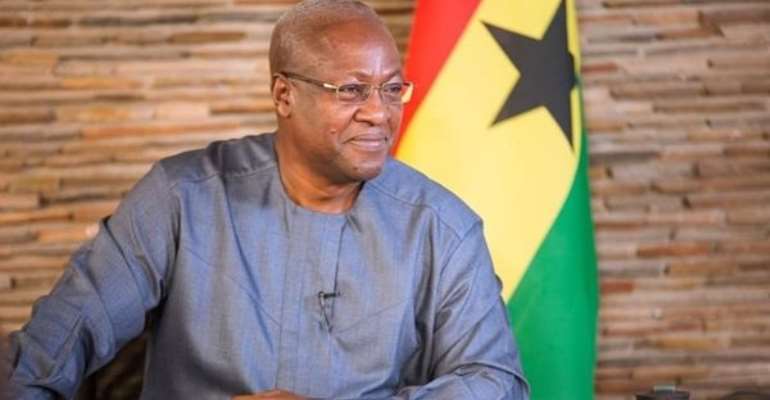 For the past week or so, this writer has taken the time to focus on the raw manipulative campaign tactics of former President John Mahama and his cheerleaders. This columnist also pointed out that in addition to manipulations, the National Democratic Congress (NDC) flagbearer's behaviour, since losing miserably in 2016 presidential election to then challenger Nana Addo Dankwa Akufo-Addo, is consistent with an individual experiencing regressive episodes. Shortly, we will switch to another form of Mr. Mahama's exploitative techniques which have entrapped some media practitioners in this country, too.
Following or listening to the pronouncements of the main opposition party and its current presidential candidate in particular, Akufo-Addo's electoral victory in 2016 and his subsequent assumption of the presidency are deviant occurrences that need to be stopped from recurring in 2020. To that extent, Mr. Mahama and his campaign team are employing every 'dirty' means they can think of in an effort to dislodge the 'Kyebi Tough Guy' administration from power.
One of the Mahama-controlled NDC's political calculi here is to repeatedly demonise and guilt-trip the Madam Jean Mensa-led Electoral Commission to the point where any credulous voter among the population will view the Electoral Commissioneras untrustworthypublic official to conduct free and fair elections. Hence, it does not come as a surprise that Ms. Jean Mensa and her office have become an unfortunate punching bag for ex-President Mahama and his hangers-on in the grand political strategy to ensure that the 'Bole Bamboi Darling Boy' becomes president again.
Certainly, the Mahama-bankrolled NDC knows exactly why his party machine is creepily and annoyingly all over Ms. Jean Mensa's every legitimate move. In this part of the world or in Africa, for instance, one key institution that—unfortunately—has been given almost unlimited power to shape the trajectory of elections is the electoral commission/bureau or whatever it is termed in each African nation.
Given the immense, constitutional powers the usually-centralised electoral institutions have in African elections, often many unscrupulous heads of state in this continent connive with their electoral bodies to rig elections in favour of the incumbent governments. The preceding scenario is what is probably giving former President Mahama nightmarish experiences each passing day. For obvious reasons, former President Mahama seems to distrust his own politics, so one does not expect him to trust any of his opponents' political moves, let alone the head of the electoral commission who replaces his favourite choice—Ms. Charlotte Osei.
Many of us know Mr. Mahama has been on that winding road before. In simple terms, he definitely knows how elections are rigged (he tried it in 2016 but couldn't succeed) so even if Ms. Jean Mensa coughs, it becomes a source of grave concern and triggers 'payback nervousness' to the NDC's presidential aspirant's electoral expectations. Perhaps, Ghanaians have to 'understand' Mr. Mahama for his incessant accusations, albeit wrongly, of the current EC that her office is preparing to rig the upcoming elections in December of this year.
Obviously, ex-President Mahama is proverbial 'throat cutter' so the very idea of urging him to prostrate in blindfolded mode, will surely evoke some 'karma feelings' within him. Because he should be aware that in human life we reap what we sow, regardless. Clearly, the foregoing accounts for the reason Mr. Mahama, Ofosu-Ampofo, Asiedu Nketia, including the entire NDC communication or misinformation team, have turned Ms. Jean Mensa into a 'whipping girl' to make up for their ideas-anaemic electioneering campaign and lack of viable policy alternatives.
Evidently, Mr. Mahama and his political poodles are employing guilt-tripping techniques specifically directed at the Electoral Commissioner because in manipulative communication—whether expressed or in nonlinguistic format—the person attempting to generate guilty sentiments out of another individual does that with the sole purpose of controlling the target's state of mind or behaviour. Guilt-tripping, therefore, is an extreme form of psychosomatic or mental exploitation and intimidation designed to enable the inducer (NDC?) of the guilt gets what he/she wants from the person at the receiving end—in this case EC Madam Jean Mensa.
If Ghanaians will remember an audio recorded tape purported to be the voice of the chairperson of NDC Mr. Ofosu-Ampofo. In the said secretly recorded audio tape, the speaker was heard devising an elaborate plot on how to wage psychological warfare against Ms. Jean Mensa. If the voice on the tape is indeed that of the main opposition party's chairman (he is yet to deny it), then it goes to underscore the fact that the Electoral Commissioner is the strategic target of Mahama-hijacked NDC guilt-tripping machinations.
It really is disturbing spectacle that for no fault of hers, the classy and relatively ethical incumbent Ms. Mensa has been put in ex-President Mahama's self-serving boiling pot of guilt-tripping. But, that is the essence of all guilt-tripping ploys. In fact, guilt-trippers like JDM, Asiedu Nketia, Ofosu-Ampofo and many others will not let their target(s) off the hook once they have initiated their plots. For the guilt-trippers such as those found in Mahama's presidential backyard, one of their major goals is to over-dramatize uncomplicated or simple issues, while making their targets perceive a sense of guiltiness or feel obligated for the cause of any perceived grievance.
In short, whenever anyone hears from Mahama-hijacked NDC pretentiously but bitterly accusing the Electoral Commissioner of 'plotting' to tilt the upcoming general elections in favour of the Akufo-Addo administration, try to ask yourself 'what time actually is' as Americans would say. Guilt-tripping is often subtle and psychological. It's why in the mind control games of guilt-tripping, many unsuspecting individuals in this country may find it difficult to spot the numerous political pranks of ex-President Mahama in his effort to win back power!
Bernard Asubonteng is a US-based writer and also a political science lecturer.
By Bernard Asubonteng