Illegal Tuna Vessels Warned To Stay Off Keta Waters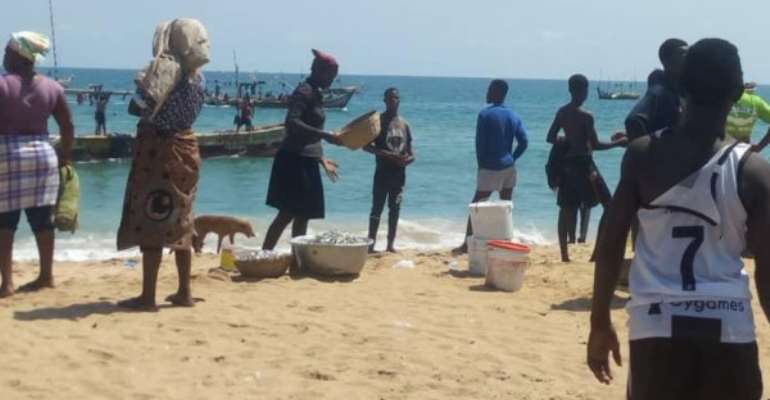 Fisher folks at Vodza Landing Beach (LBC) in the Keta Municipality of the Volta region have warned tuna vessels engaging in Illegal Unreported and Unregulated (IUU) fishing in the Keta waters to stay off.
The artisanal fishers complained the tuna boats continued to use light to fish for baits in the Inshore Exclusive Zone (IEZ), an illegality, which was not only destroying their livelihoods but also the marine ecosystem that supported sustainable fisheries management.
Torgbui Joshua Agbezudor Kaleawo, Vodza Chief Fisherman in an interview with the Ghana News Agency, appealed to authorities to step in and enforce compliance of fishery laws to avert unforeseen situations in the area considering the agitations of fishers especially the youth that the unlawful activities of the tuna vessels were giving them unequal competition for the already dwindling fish stock.
"The youth are not taking this thing lightly because it's about their livelihood. A couple of weeks ago when these vessels stopped coming here for light fishing, our people were recording good harvest and we were all happy that our toils were being rewarded only for the vessels to reappear for us to go back to those low catch days," he said.
The Chief Fisherman said because they were warned against light fishing, it was difficult for the locals to tolerate vessels from elsewhere engaging in the illegality.
"On the night of Wednesday, May 06, some agitated youth planned to set fire to tuna vessels using light to fish in our waters and it took the intervention of authorities to stop the youth from taking the law into their hands. The next day, the Navy arrested two tuna vessels for fishing with LED lights in the night," he said.
Torgbui Kaleawo said despite several warnings to the Tuna Association, their vessels still came to light fish on the night of May 30 and noted it was important authorities acted fast for peace.
—GNA