Charlatans Brazenly Desecrating The Gospel Of Jesus Christ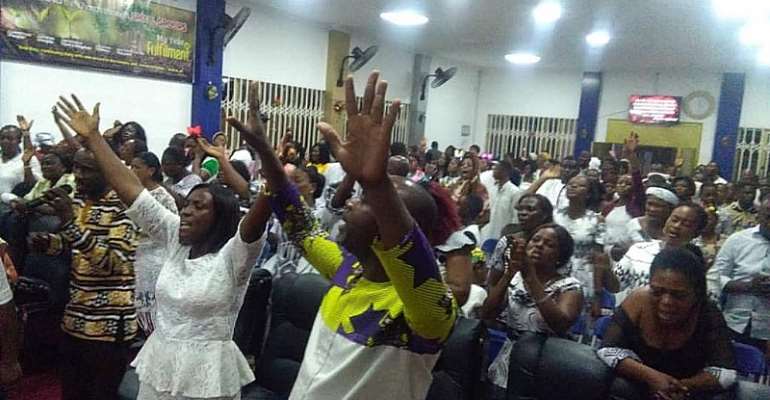 All those claiming to be men/women of God but seek to be conducting church services wearing PPEs, with their congregants in huge nose masks for fear of catching Covid-19, right in the house of God, are nothing but crazy charlatans.
Ruthless legion
Such characters are therefore not fit to lead any flock, because, if tiny the divine authority to thread over a tiny virus, to the point where it can spread fear and panic in them and their congregations, then, what happens when the devil himself enters with his ruthless legion?
The instant healing power openly and freely exhibited by the apostles through the Holy Spirit in the early days of the church is completely missing in contemporary Christian leadership.
The signs
Indeed, the gospel of Mark 16:17-18 says: And these signs shall follow them that believe; In my name shall they cast out devils; they shall speak with new tongues. They shall take up serpents; and if they drink any deadly thing, it shall not hurt them; they shall lay hands on the sick, and they shall recover.
As for the tongues, they rattle it with notorious ease and indecent haste because nobody really understands what they're saying or the source of power it is emanating from. However, miracles are to be manifested in the physical and that's where the pure lies and naked trickery take over.
Commercialisation
Even these fake miracles and total lies being presented as prophecies by these charlatans are sold at cut-throat prices to the poor and needy. However, tithes/offerings which are old testament edicts, are being forced down the throats of modern-day worshipers.
Successful people in the church are always given prophecies of their businesses being threatened with ominous calamities by family witches and wizards, with the expressed purpose of entrapping them to part with huge sums in tithes and offerings, and also, buy anointing oils of various efficacies over demons.
Destruction
The poor congregants who are not in the position to be milked through fictitious but mouthwatering prophecies are either simply overlooked during prophetic sessions, or, simply told their situations are not improving because they lack faith.
Once struggling and poverty-ridden individuals who, through the help of family members, have made it in life, have often had their mental faculties completely taken over by such charlatans through naked lies and vile aspersions, with intent to extricate the family from this individual, so they can reap where they didn't sow.
Indeed, I have a very personal experience on this, which I promise to share with you when the time is right so that we can all learn.
A personal vow
Indeed, I would've been a stark illiterate, today, but for the steadfastness of my uneducated mother who sold her personal possessions to give me secondary School education. For this; I vowed never to believe any prophet whoever made a mistake to tell me my mother was a witch.
Such antics are the tools often deployed by these charlatans to sow seeds of confusion, conflict, disunity, chaos, and often wars within otherwise peaceful, loving, and united families. They do same to marriages, friendships, and other cordial relationships.
Knowledge
Hosea 4:6 says: "For lack of knowledge, my people perish"; and this is why 2Peter 1:5 actually admonishes that: "But also for this very reason, giving all diligence, add to your faith virtue, to virtue knowledge".
The Holy Prophet Mohammed, may peace be upon Him, summarized it all in just one word: IQRA; which means READ!!!
Individualism
In conclusion; I believe a post-COVID-19 era presents the State with the opportunity to put in place legislation to regulate activities of such charlatans.
And as individuals, we must wake up to the reality that SALVATION IS AN INDIVIDUAL AFFAIR: nobody will answer questions on behalf of the other when we all come before the judgment throne of the Lord Almighty.
And this divine admonition is vividly captured in Apostle Paul's epistle to the Philippians Chapter 2:12; thus: "Wherefore, my beloved, as ye have always obeyed, not as in my presence only, but now much more in my absence, WORK OUT YOUR OWN SALVATION with fear and trembling".
THE MODERN-DAY CHRISTIAN HAS BECOME NOTORIOUSLY LAZY WITH PERSONAL RELATIONSHIP WITH THE MAKER; AND THEREFORE, HAVE BECOME DEPENDENT ON FELLOW HUMAN BEINGS THE LEAD THEM ON THE PATH OF SALVATION.
MAY THE GOOD LORD, IN HIS ETERNAL MERCIES, OPEN OUR SPIRITUAL EYES, RENEW OUR MINDS, IMBIBE US WITH DIVINE KNOWLEDGE AND FILL US WITH STRENGTH TO DILIGENTLY SEEK HIM.
Newton-Offei Justice Abeeku
email: [email protected]