'Not Through Physical Means'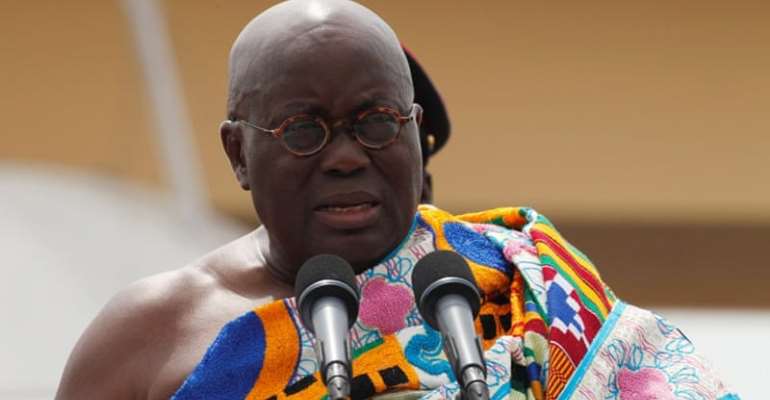 The result of Ghana's 2016 presidential election came as a shock to many people, including even some stalwarts of the winning New Patriotic Party. It was like a 'political earthquake' as Nigel Farrar, former leader of the U.K. Liberal Democratic party would say.
During a previous Presidential election campaign, one Kofi Koomson, an executive member of the NPP said he would not be able to sleep if he woke up one morning and heard that the presidential candidate, Nana Akufo-Addo was elected president.
That meant a lot. Pressed to elaborate on his assessment of the flag bearer, Kofi Koomson only said he was fearful of Akufo- Addo's violent temper and criminal tendencies. But Nana Akufo -Addo surprisingly won the election and he has served more than two years already. I wonder if Kofi Koomson is able to sleep well considering what is happening in the country now. And he is not alone. Another main man in the previous NPP government, Kojo Mpianim, was also amazed that Akufo- Addo won the election.
Yes, many people thought the odds against Akufo- Addo were so massive and damaging that he did not stand a chance against the incumbent, John Mahama of the NDC, in whose government Ghana had seen the largest variety of infrastructural developments in modern times.
On the other hand, Nana Akufo- Addo's public and political life was considered unimpressive in the eyes of many people. In government, his woeful performance as Attorney- General during the Tsatsu- Tsikata versus the state case was a disappointment to many people and a disgrace to the Kuffour government. Instead of the then-president sacking him, he was transferred to the Department of Foreign Affairs.
Here too his credibility continued to be dented. It was alleged that about 100 diplomatic passports got missing at the foreign office, some of them finding their way into the hands of a number of Venezuelan drug barons. w In addition to his unimpressive performances in public office and his old age, people found him to be gaffe-prone. He was accused on many occasions of careless indiscreet public utterances. His infamous 'all die be die' is a typical example.
It was upon this background that the 2016 general elections campaign started. Nana Akufo Addo however went into the campaign vigorously and with dynamism regardless of whatever perception people had about him, knowing very well that he had stood for the presidential election twice already and lost. He trotted every part of the country promising anything that he could think of.
Many of these promises were impractical and economically not viable but his supporters, most of whom were ignorant of the consequences, hailed the promises. They did not know that he was making these promises just for their votes to get him elected president; a position he had twice fought for and lost. But serious-minded people and independent economists knew how puerile and damaging the promises could be and so they did not take him seriously.
This is the reason why many people including some members of his own party were surprised when Akufo- Addo was declared the winner of the presidential election, against all the odds. His victory was not just an ordinary one but that of a huge majority.
He even won at safe constituencies where he was least expected to win and that made people raise eyebrows and ask many questions. The question on the lips of many people was 'how did he manage to win the election with that gargantuan majority?'
Soon people who thought his victory was not a clean one started coming out with possible things he must have done both physical and spiritual to cling the victory. These people were of the opinion that he himself was not sure he would win the election. If he were, they argued, he would have prepared his inauguration speech in advance and not hurriedly plagiarize past American presidents' speeches.
Two years after the unexpected victory, the determination to unravel the secret behind the election victory continued. Then one day, luckily and to the vindication of those who have been raising their eyebrows, Kennedy Adjapong, the Assin Central M.P. came out to tell Ghanaians that the presidential election was indeed not won through the normal clean political process.
To his own party members he threatened and I quote: 'dare me and I will reveal the secret behind our winning the presidential election.' Then he continued, 'our winning was not through physical means.'
Since this revelation, I have been very fearful of mother Ghana. If the election was not won through 'physical means' as said by Kennedy Adjapong, then it could be Akufo -Addo and the NPP went to obtain assistance or powers from some gods in the underworld to help them win the election. This is where my fear lies. And I think I have a genuine reason to be worried.
Since Akufo- Addo took over the realm of affairs of the country, there have been so many tragic occurrences- mysterious deaths and the disappearance of people, especially children. One thing which has to be noted is that it is only our God in heaven who gives unconditionally. All other gods may give but with a price that may involve human and material sacrifices. And if there is a default, the consequences could be calamitous.
Therefore as a citizen, I earnestly urge Kennedy Adjapong to gather courage and complete the confession he started. Already he has told us that the victory was not through 'physical means.' Ghanaians would like to know the actual spiritual process the party followed to win the election. This will help them to prepare to avert any possible vengeance that may arise as a result of noncompliance with promises made.
May I also ask Kennedy Adjapong, as a stalwart of the party and a donor who should know everything about NPP to tell Ghanaians who killed the Yaa Naa and his forty chiefs. As an M.P. who is making laws for the country, I think he should be honest to himself and the nation, and not hide anything from the people he is making laws for. We are going into another election and so this is a great opportunity for him to show how he loves mother Ghana above anything else.