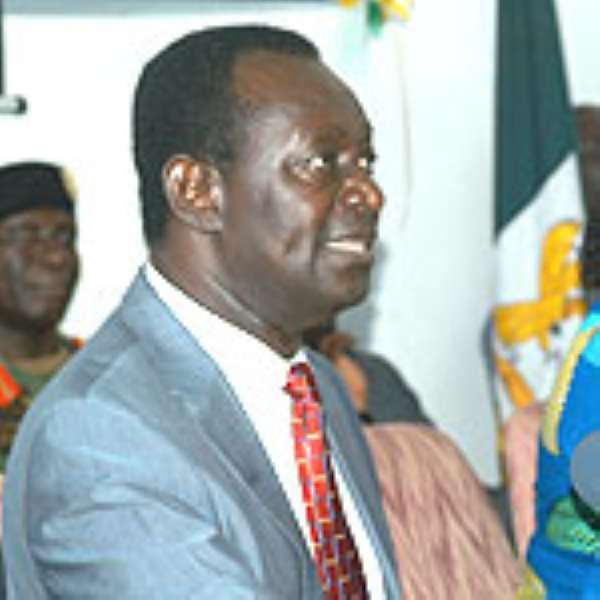 Dr Kwame Addo-Kufuor, Defence Minister
The Ghana Armed Forces (GAF) could be contracted to undertake large-scale forestation programmes in remote and difficult parts of the country to ensure that desertification is effectively checked.
This has become necessary considering the fact that deforestation is one of the main environmental threats facing the country and also in view of the fact that the efforts of the Forestry Commission, organisations and individuals have so far proved inadequate to stem the tide.
The Defence Minister, Dr Kwame Addo-Kufuor, made the suggestion when he delivered an address at the Students Representative Council (SRC) Week celebration of the Bolgatanga Polytechnic in Sumburungu near Bolgatanga in the Upper East Region at the weekend. He spoke on the topic "The Security and Peace of the Nation and Sub- Region: The Role of the Defence Ministry."
He explained that the GAF had the capacity to undertake both road and bridge construction in the rural and urban centres, citing a 6.6 billion-cedi contract his Ministry had signed recently with the Tema Oil Refinery (TOR) for the surfacing of roads at the Refinery.
"The GAF has over the years engaged in the construction of feeder roads in the Afram Plains and the Western Region," he said, adding "In line with this tradition of partnership in development, the GAF is positioning itself to contribute more effectively to the socio-economic development of the country."
Dr Addo-Kufuor attributed Ghana's acclaimed status as an oasis of peace in the sub-region to "wise political leadership, democratic governance, the transparency of the present government, the positive influences of some traditional and religious leaders and in general the peaceful nature of most Ghanaians."
He said the government would continue to equip and train the military to improve upon its professionalism for the benefit of the country and the sub-region.
The President of the Polytechnic's SRC, Mr Joseph Apakre, commended the Defense Ministry for undertaking massive infrastructure development in various parts of the country.
A second year marketing student of the polytechnic, Mr Stanley Abopam, appealed to the Defence Ministry to consider putting up military barracks in the Upper East and Upper West regions to help deal with conflicts which mostly resulted from chieftaincy and land disputes.