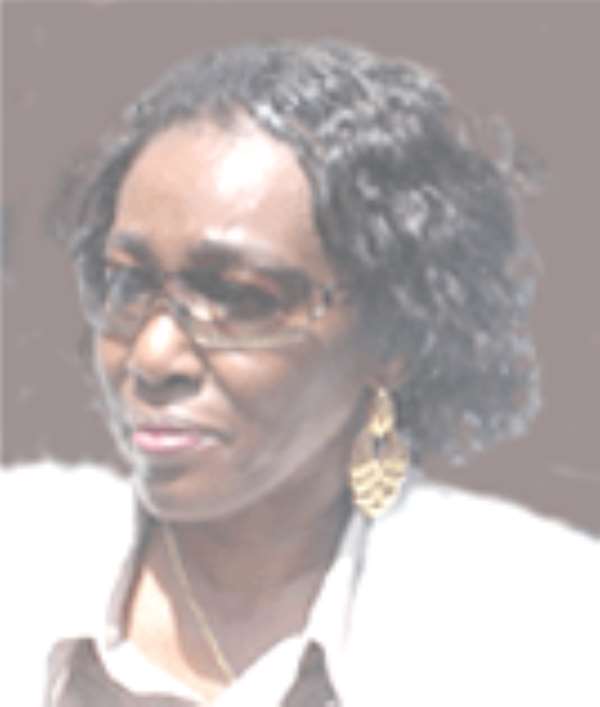 Mrs Konadu Agyeman Rawlings
The Accra Fast Track High Court has vacated its order that the Attorney-General (A-G) and Minister of Justice should appear before it and testify in the libel case filed by the former First Lady against the Deputy Editor of the Daily Guide newspaper, Mr Ato Sam, alias Baby Ansabah, the Editor of the paper, Mrs Gina Blay, and Western Publications Limited, publishers of the newspaper.
The clearance of the A-G followed the withdrawal of the subpoena by Mr Godfred Dame, counsel for the defendants, and the court's order that Mr Joe Ghartey should appear before it and testify as a defence witness.
Counsel told the court at its sitting yesterday that it found it prudent to withdraw the request for a subpoena because the issues relating to the matter were the substance of proceedings in a criminal matter in another court.
Mr Ghartey's subpoena was the result of an application by the defence counsel that the A-G would be needed to testify and tender some documents relating to the divestiture of the Nsawam Cannery to Caridem Limited.
His failure to personally appear before the court on Monday compelled the court to issue an order that Mr Ghartey appeared before it yesterday.
A representative of the A-G told the court that the A-G had been served with the withdrawal but he was in court to show respect.
He had earlier on Monday told the court that the A-G had instituted criminal proceedings against Caridem at the Fast Track High Court and, therefore, he was at a loss as to what type of documents the defence counsel wanted.
Mr Tony Lithur, counsel for the plaintiff, asked for costs because in his opinion the attempt to subpoena the A-G was aimed at delaying the proceedings, but the court did not award any costs and adjourned the case to July 4, 2006, to enable the parties to present their addresses.
Mrs Konadu Agyeman Rawlings, who is also the President of the 31st December Women's Movement (DWM), has sued the defendants for publishing libellous materials, headlined: "Milking the Sacred Cow, Konadu Owes ¢2.8 billion to the State", about her on July 6, 2005.
She finds the story disparaging to her and is demanding general damages, including aggravated and/or exemplary damages, for libel in respect of the words published by the defendants on the front page of the Daily Guide.
Mrs Rawlings is further praying the court to restrain the defendants from publishing any similar or other libellous statements and/or stories on or about her, as well as the granting of costs and other reliefs which the court might deem necessary.