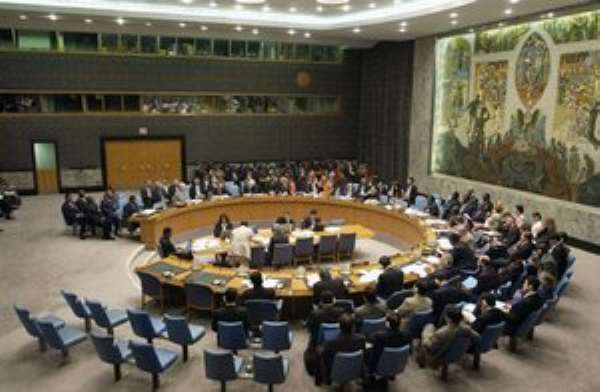 Economy Photos Security Trading UN
The U.N. Security Council voted unanimously Tuesday to lift timber sanctions against Liberia to help spur economic growth in one of Africa's poorest nations, but said it will review the decision in 90 days.
Unless Liberia has adopted legislation on forestry reforms by that time, the council said it will reinstate the sanctions.
The council decided to maintain sanctions on Liberian diamond exports for six months but said it will review the measures in four months to give the government time to establish an international program to certify the origin of the country's gems.
The Security Council imposed arms and diamond embargoes on Liberia in May 2001 to stop government revenues from those industries from being used to fuel civil war. A new ban on the timber trade took effect in July 2003. The latest six-month extension of the diamond and timber sanctions expired Tuesday.
Liberian President Ellen Johnson Sirleaf argued in a May 24 letter to the council that sanctions limiting the trade of arms, timber, and diamonds _ and restricting the travel of designated individuals _ were stunting the country's economy and were no longer needed.
She said the government would not be able to fight poverty effectively without the economically significant diamond and timber industries.
But a recent report to the Security Council by a panel of experts, obtained by The Associated Press, concluded timber and diamond sanctions were generally effective and "have helped to stabilize the situation in Liberia." It indicated they should be continued.
"While it is true that the U.N. sanctions on timber and diamond exports may have served as a disincentive for significant new investment in post-war Liberia, most of the key investors in Liberia's timber and diamond sectors were also friends of former president (Charles) Taylor and key players in the civil conflict," the report said.
The Security Council approved sanctions after determining that Taylor had helped rebels in Sierra Leone fight the government there. Taylor fled into exile in Nigeria in August 2003, paving the way for elections which Sirleaf won. He was arrested in late March and is now in custody of a U.N.-backed war crimes court facing charges of crimes against humanity.
The panel of experts backed the government's planned reforms of the timber industry to make it more transparent, prevent illegal logging, and ensure the revenue is not used for financing conflict.
Sirleaf inherited one of the world's poorest countries, battered by back-to-back civil wars from 1989 to 2003 that left 200,000 people dead and 3 million scattered abroad.