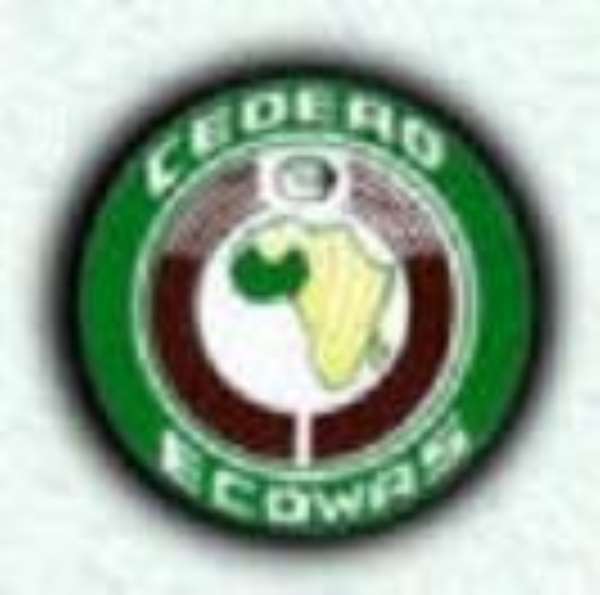 Ecowas Logo
The Third ECOWAS Conference of Ministers for Public Service began in Accra yesterday with a firm commitment to establish a regional mechanism for monitoring and evaluating the implementation of the Public Service Chapter.
The Charter, adopted in 2001 during the Third Pan African Conference of Ministers of Public Service held in Namibia, contains provisions relating to fundamental principles, ethical standards and modalities for implementation to enhance public administration in Africa.
At a technical session meeting preceding the Ministers' conference last Wednesday, Alhaji Dr Man M. B Joof, Acting Executive Secretary, Administration and Finance of ECOWAS, said at the regional level, ECOWAS had been tasked to institute a mechanism to link the NEPAD initiatives on good governance with efforts of member states in the implementation.
He stressed the need for member countries to adopt practical strategies and interventions that would enhance good governance and ensure efficient and effective public administration.
"Any effort at the regional and continental levels must ensure a synergistic and value added relationships with context-specific strategies and frameworks", Dr Joof added.
He said having subscribed to the Charter, member nations must share experiences and knowledge in order to strengthen each other's capacities and establish supportive intervention within the context of governance and public administration.
"ECOWAS has gone a step in this direction by publishing the Public Service Charter and has made it available to member states for the benefit of all particularly to inculcate the context of the document in our services," Dr Joof said.
Mr Gabriel Hounsou, a representative of the African Union, said African countries had done little to the commitment to implement the various conventions adopted, specifically the one on corruption, but expressed the hope that efforts being made for the Public Service Charter would translate into results.
He stressed the need to intensify processes of harmonising policies, programmes and strategies at the regional and continental levels so as to ensure coherence for the attainment of better results.
Welcoming delegates, Mrs Rebecca Aboagye, Chief Director of Ghana's Public Sector Reforms, touched on the need to build capacity and strengthen professionalism and ethical values within the public service.
She reiterated that the adoption of practical strategies at the regional levels were key to promoting ethical value and high professionalism within the public service.
The five-day conference is expected to also adopt a Regional Staff Performance Appraisal System and evolve a regional mechanism for tracking and reporting corrupt and unethical practices in the public service.
At the first ECOWAS Conference of Ministers of Public Service, which was held in Abuja Nigeria in 2002, members agreed to hold meetings annually.