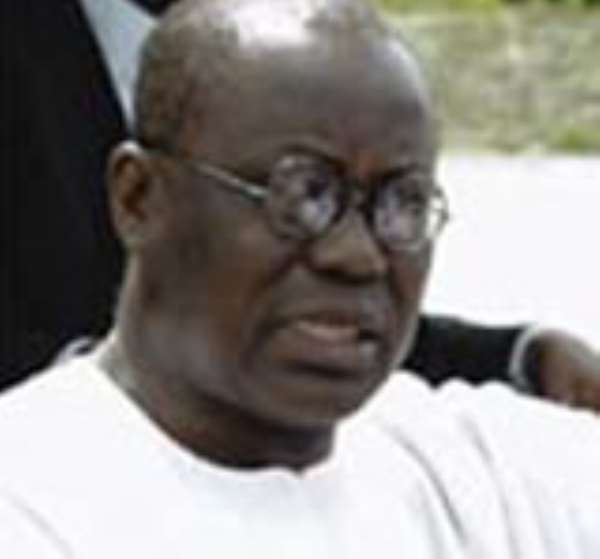 Akufo Addo
A group calling itself Friends of Nana Akufo-Addo, or FONA, has been extolling the virtues of Ghana's foreign minister as the perfect candidate to lead the ruling New Patriotic Party (NPP) in the next elections.
Nana Akufo-Addo is one of several high profile politicians who have shown interest in contesting the Presidency on behalf of the ruling NPP.
He's currently in Geneva, Switzerland on official duties. But his friends have been busy with their media campaign to present him as a viable candidate.
A member of the group, Mustapaha Hamid told JOY News in an interview that the group is convinced that Nana Akufo-Addo is the right man to succeed president Kufuor who is expected to leave the office in 2008.
He said the group has weighed the card and the options and believe as well as majority of the NPP believes that the foreign minister is indeed the man who has showed consistent commitment to the principle of democracy.
"You know the NPP and its founders call themselves the democratic people. It means in other words that the people have avowed commitment to democracy.
From the early 70's to this day, Nana has been one of the foremost politicians in this country who's been on the streets, whose been fighting military dictatorship who has done everything to ensure the freedom that we breath today"
Meanwhile, as the race for the presidency intensifies, some members of the public have been expressing varied views on what qualities they expect in those who would seek their mandate to lead the country.
Callers into JOY FM's super morning show this morning say they want a president who is honest, a team player with clear and achievable objectives and targets and also has confidence in the Ghanaian.
For others though, how successful one has performed, as a parent will be the best standard for judging how capable they would be if the destiny of this nation were entrusted into their hands. Here are some of the views.