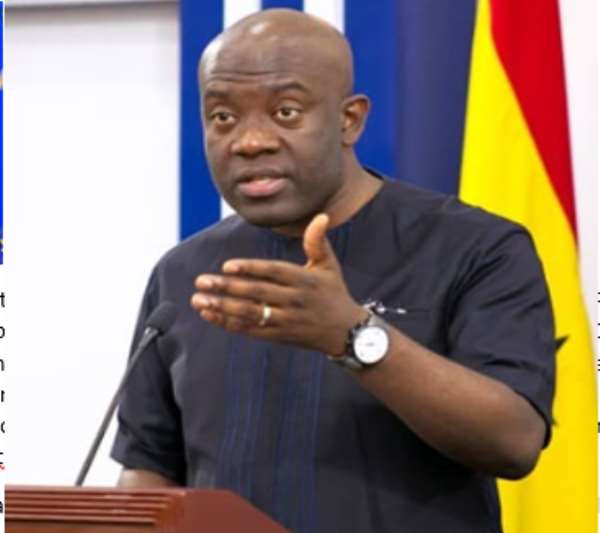 A recent Zoom interaction meeting organised by NPP UK's Manchester Chapter and the NPP UKs Communications team threw more light and provided insight into the management of COVID 19 in Ghana. Dubbed "COVID 19, Ghana's Management", the session drew over 65 participants of all ages and backgrounds and from countries such as Japan, Belgium, Canada, USA and cities across the United Kingdom, who embraced technology to interact with Hon Kojo Oppong Nkrumah, Ghana's Information Minister and Dr Aboagye DaCosta, Director of Health Promotion at the Ghana Health Service.
Hon Kojo Oppong Nkrumah explained that Ghana's response has not just been to follow what the rest of the world has been doing but has had to adapt our response to what works for the Ghanaian situation. Measures such as, enhanced contact tracing in addition to the normal surveillance have been adopted. Financial support of the use of utilities at a time when many are staying at home has also been provided by the government as part of measures to support the fight against the deadly virus, which has so far claimed the lives of 34 Ghanaians. The Minister urged all participants to continue to support the government's efforts by educating others on the preventive etiquette needed to fight COVID 19.
Oh his part, the Director of Health Promotion, Dr. Aboagye DaCosta, gave us more details on the management of the virus. Dr DaCosta explained that Ghana's response has been one that the rest of the world is learning from. It is not surprising that, with a near 100% general awareness level, and with 83% of Ghanaians feeling they now have enough information about COVID 19, Ghana's management strategy has attracted the attention of countries such as the USA and the UK, and organisations such as the WHO, ECOWAS, and the WORLD BANK. Ghana's 3T strategy (Tracing, Testing, and Treatment), as well as our 'Pool Sampling Testing' at the Noguchi research laboratory, have all been acknowledged.
Dr DaCosta provided extensive responses to a range of questions on stigma, isolation canters, distribution of masks, contact tracing, future science research plans, community spread of the virus, and expansion of testing laboratories in the country and infection rates among others.
He explained that the war on stigma can be won when everybody joins in education and creating awareness of the COVID 19 as the virus has come to stay with us. He also explained that more cluster spreads have been seen rather than community spreads.
Dr. DaCosta further explained that herbal medicine from Madagascar has been requested for but not yet delivered contrary to Joy FM reports that Ghana has received the herbal medicine from Madagascar, he cautioned that fake news and inaccurate reporting reduces the credibility and impact of education on COVID 19, one that all must aim to be mindful and careful of.
Feedback from the meeting has been very positive, and many were pleased and appreciated the time spent with our resource persons. While I say a special thank you to Mr. Danny Nii Osa Komieter of Manchester –UK, It's worth mentioning that, at a time when we embrace technology such as Zoom, moderators of future Zoom meetings must aim to strictly apply the Zoom meeting protocols and guidelines so that a very good, well-intended, positive meeting, is not tainted by sanctimoniously pious, agenda-seeking, demi-god deities of Mesopotamia.
God bless Ghana and long live the Ghana Health Service.
Kwaku Bimpeh
Amansan FM, Milton Keynes
United Kingdom