Savannah Regional NPP Youth Supports New Voter Register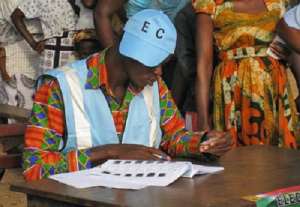 The Youth Wing of the New Patriotic Party in the Savannah Region has joined the call for the compilation of new voters register by the Electoral Commission of Ghana on Friday.
According to the group's Regional Youth Organiser, the new register when complied will lead to a credible election in December 2020.
"The voter register is the wheels on which a credible election run and as a wing of a party that continually play a lead role in Ghana's electoral reforms, we will again like to state our unbridled support for the independent electoral commission in their quest to make our electoral roll more robust.
He added "The NPP still maintains our position that the current voter's register is bloated, over Stretched and not fit for purpose. "
The Youth Wing Organiser said the government of the New Patriotic Party has fulfilled many of its numerous promises to Ghanaians and he is hopeful the electorates will retain it come to the December polls:
"There is no doubt that the NPP will be given another resounding and overwhelming victory by the Ghanaian people considering the magnitude of fulfilled promises and numerous job opportunities by the Nana Addo led government."
Mr. Rapheal Mahama further urged his party faithfuls to support the EC to perform its duties of compiling new credible voters register for the elections:
"I call on all youth groups and members of the New Patriotic Party in the Savannah region to participate in this important exercise to improve on the credibility and integrity of our electoral system."
Reacting to the NDC's actions to kick against the compilation of the new register, he insisted:
"The unfortunate action of the NDC can best be described as 'Holding Onto Straws' for a glaring, inevitable defeat await's them come December 2020."
""The Electoral Commission is the only body constitutionally mandated to compile an electoral register and conduct elections in Ghana as clearly stated in article 43(1) of the 1992 constitution and therefore needs to be supported by all stakeholders in executing such legal mandate."
Mr. Rapheal Mahama Akati ended his party's youth wing support for the compilation of new voters register by calling on all Ghanaians to follow the safety protocols by the President to ensure a safe exercise:
"I further entreat all Ghanaians to strictly abide by the president's directives on Covid-19 protocols and as implemented by the electoral commission for the registration process for a smooth exercise"