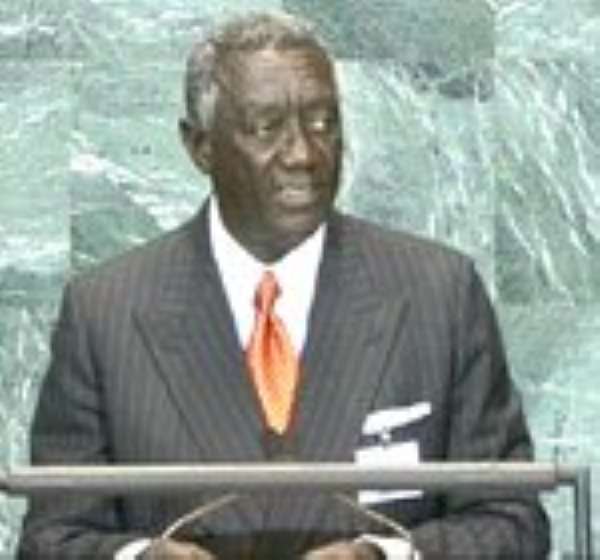 Accra, June 19, GNA - President John Agyekum Kufuor has called on China to use its Exim Bank Credit lines to facilitate and provide support for business partnerships between her and Ghana.

"It is the view of my Government that our two Governments should be more deliberate in encouraging our respective private sectors, business communities and entrepreneurs to partner in joint ventures for further investments, technology transfer and acquisition of skills to help grow Ghana's economy to their mutual benefits."
President Kufuor was proposing the toast at a dinner held in honour of the visiting Chinese Premier, Mr Wen Jiabao at the Accra International Conference Centre on Sunday.
He was in the country as part of a seven-nation African tour that would take him to Egypt, South Africa, Tanzania, Congo Brazzaville, Uganda and Angola.
The tour comes amidst growing interest on the part of China to boost trade and bilateral relations with Africa.
President Kufuor said his Government was promoting textiles and garments production, agricultural processing, fisheries and other small and medium scale industries' sectors and noted that, the Chinese has a lot of experience and expertise in these areas.
He, therefore, invited the Chinese to partner the country's private sector in promoting these businesses on a win-win basis.
President Kufuor expressed appreciation to China for its various forms of aids to the country, which from 2001-2005 stood at over 100.5 million dollars.
The funds were used for the building of police and military barracks, irrigation projects, improvement of rural water supply and the rehabilitation of the national theatre, as well as the conduct of feasibility studies on the modernization of the railway network. Additionally, China cancelled 66 million dollars debt owed her by Ghana in 2003, provided an interest free loan of 28 million dollars for the construction of the Nsawam-Ofankor dual carriageway and gave credit for the development of the country's telecommunication system. The President said, Ghana shared with China concerns about the need to reform the United Nations, adding, "We look forward to working closely with your Government to jointly safeguard the rights and interests of all countries in order to make the 21st Century one of genuine peace, security and prosperity for all peoples of the world." Responding, Premier Jiabao said China and Africa should consolidate and form strategic partnership to promote a harmonious world. They should also step up their co-operation and work together for their mutual development.
The Chinese Prime Minister recalled the warm relations that had existed between the two countries since Ghana's independence and said his visit was to solidify and deepen the bilateral relations. Mr Jiabao praised President Kufuor for his leadership that had brought improvement to the national economy and the role he was playing in regional and international affairs.
He ends his visit to the country on Monday.