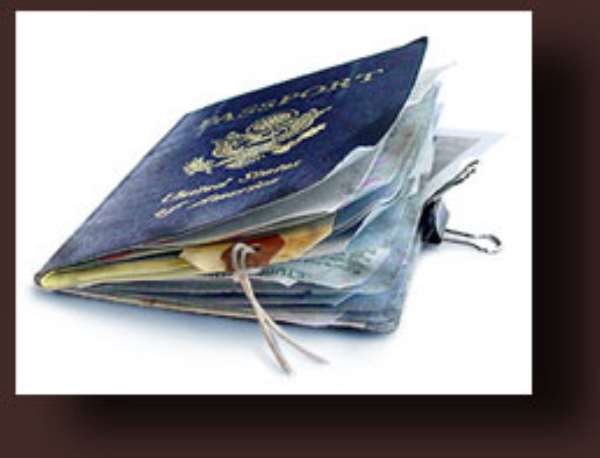 Accra, June 16, GNA - Nana Addo Dankwa Akuffo-Addo, Minister of Foreign Affairs, on Friday said there was a clear need for an overhaul of the nation's passport system to enhance its accessibility and credibility, which had become a matter of concern in recent times.
Contributing to a statement in Parliament on the multiple acquisitions of passports, by Ghanaian citizens and foreigners, Nana Akuffo-Addo announced a study by the Ministry for such an overhaul, and said it would be consistent and would comply with the new IT system on national data.
Mr Mark Anthony Awuni, NDC MP for Binduri, had noted in the statement the increasing number of passport applicants, where a number of applicants thronged the Passport Office as early as 0600 hours to submit passport forms or collect their passports.
He said the stamping of rejected visa applications with "Application Received" gave an impression that the applicant would be refused visa if he or she re-applied using the passport that had been stamped.
He said that altering of details on a new passport application to hide one's true identity to outwit the Embassies for visas had contributed to the increasing number of passport applicants. Mr Awuni urged the Embassies to find other means of identifying persons, who had applied for visas and had been rejected, and said the Ministry of Foreign Affairs should put in place mechanisms to make it difficult to acquire more than one Ghanaian passport.
Other Members, who contributed were unanimous on the need to enhance the decentralization of passport acquisition and the allocation of more financial resources to the Foreign Affairs Ministry and other agencies connected with the acquisition of passports. In related development, Members who contributed to a statement on this year's celebration of the International Day to combat Desertification, which falls on Saturday, June 17, 2006, agreed that a concerted effort should made to check the fast approaching desert, especially in the three Northern Regions of Ghana.
The Deputy Minister of Local Government, Rural Development and Environment, Mr Kofi Adusei-Poku said in the statement that about 35 per cent of the land area of Ghana was being seriously affected by the desertification process.
Mr Edward Salia, NDC Member for Jirapa, said the fast approaching desert stemmed rather from lack of resources to implement policies and plans to check desertification, adding that the lack of affordable energy made people to cut down trees for their fuel needs.
He urged the Ministry of Energy to accelerate the extension of the national electricity grid to places in the North without electricity and make Liquefied Petroleum Gas more affordable.
Dr Benjamin Kumbour, NDC MP for Lawra Nandom, said while the nation had to make use of traditional but effective ways of using land to check degradation, scientific ways of the right use of land had not been established.
Mr Yaw Osafo-Maafo, NPP Member for Akim Oda, called for better land management and farm practices to halt the spread of desertification.
He also underscored the need for the District Assemblies to pass bye-laws that would prohibit the cutting down of trees along water bodies and suggested that part of the District Assemblies' Common Fund should used to support tree-planting. He also advocated a special fund to combat desertification in the three regions of the North.
The day would be celebrated in Ghana on Monday June 19, 2006 at Walewale in the Northern Region.