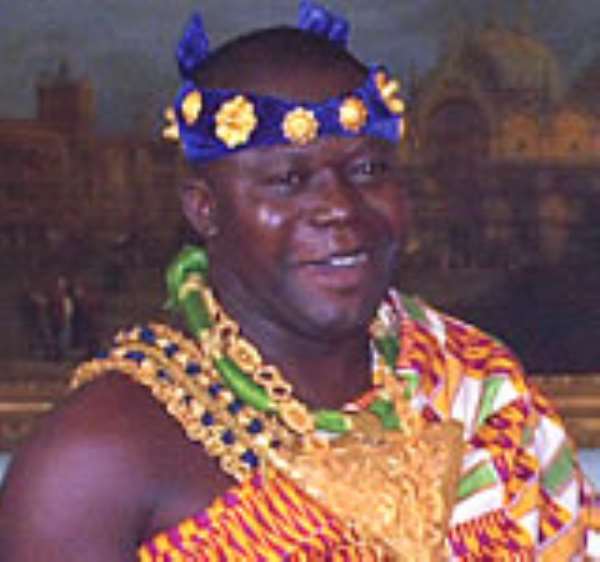 Otumfuo Osei Tutu II
Otumfuo Osei Tutu II, Asantehene, has called on the European Union (EU) to provide financial assistance in the training of Small and Medium Scale Entrepreneurs who can help create jobs for the teeming unemployed youth in the country. He noted that the banking sector where these entrepreneurs could borrow money from is not helping much because of their high interest rate and other demands.

Otumfuo Osei Tutu was speaking when Mr Filiberto Ceriani Sebregondi, the EU Ambassador to Ghana paid a courtesy call on him at the Manhyia Palace in Kumasi in the Ashanti Region. He said the country could not get the accelerated development that it is yearning for if these small and medium scale entrepreneurs are not assisted financially.
He urged the Ambassador to visit chiefs in their traditional areas to enable him to learn at first hand their problems and the assistance that could be offered in terms of technical and financial advice.
Otumfuo Osei Tutu gave an account of how the World Bank committed just 4.5 million dollars for the development of schools, water and health facilities in the rural areas and said, "We have constructed 40 schools in deprived areas, built residential quarters for the teachers, provided water facilities, so that teachers would be prepared to stay to teach the children.
He commended the EU for the support they had provided so far to Ghana in terms of infrastructural development and said there were still some grey areas and as a developing country "we need your assistance due to the country's budgetary constraints".
Mr Sebregondi, on his part congratulated the Asantehene for the crucial role he played in keeping Ghana stable making reference to the road map he, as the leader of the Eminent Chiefs, had developed for the Dagbon chieftaincy gates to bring peace to the area. He said by this action, Otumfuo is contributing to build a united and safe Ghana, which can lead to an unimpeded development, adding, "he has been the anchor of stability".
Mr Sebregondi said EU is providing a lot of support for the country through the Lome Convention and had so far spent 1.2 billion dollars in Ghana for infrastructural facilities such as feeder roads, schools and water.