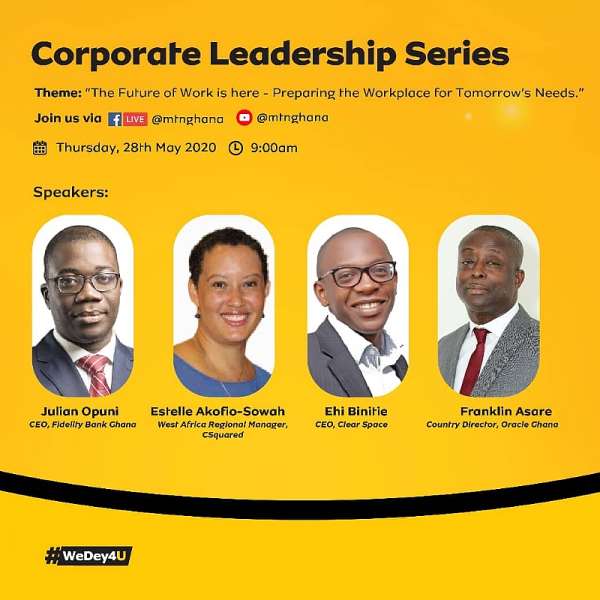 Accra 27th May 2020. Seasoned professionals in corporate Ghana will converge on the MTN Business World Breakfast Meeting platform to discuss the theme "The Future of Work is here-Preparing the Work Place for new Talent Needs".
Estelle Akofio Sowah, West Africa Regional Manager, CSquared, Julian Opuni, CEO Fidelity Bank, Ghana, Ehi Benitie Co-Founder Rancard and CEO of Clear Space Labs and Franklin Asare, Country Director Oracle Ghana will share insights on how emerging trends in the global economy and how technologies could remodel the way we work. They will also discuss how we can find the right balance between humans and technology, ways to improve employee experience and more importantly explore the unique opportunities embedded in the Future of Work.
The panel will also share insights on how technological advancement such as the use of artificial Intelligence and robotics could impact talent acquisition vis a vis the strong believe that it will create an opportunity for businesses to develop new models for labour.
The MTN Business Breakfast Meeting which has been digitalised will stream live on MTN Ghana's Facebook page from 9:00am on Thursday 28th May 2020.
Commenting on the theme: the Chief Marketing Officer for MTN Ghana, Mr. Noel Kojo-Ganson, expressed his excitement about the opportunity being created with this online meeting which will allow more people to participate and make contributions to the discussion. He lauded the theme indicating that it was very timely and relevant to today's workforce and those who are preparing for opportunities ahead. He urged all persons who are interested in knowing about the 'Future of Work' to join the Breakfast session via MTN's Facebook page to gain valuable insights especially in this period where COVID -19 is redefining the way people live and work.
MTN Ghana is the market leader in the increasingly competitive mobile telecommunications industry in Ghana, offering subscribers a range of exciting options under Pay Monthly and Pay As You Go Services and Mobile Financial Services. The company has committed itself to delivering reliable and innovative services that provide value for subscribers in Ghana's telecommunications market. Since its entry into Ghana in 2006, MTN has continuously invested in expanding and modernizing its network in order to offer superior services to a broad expanse of the nation.
About MTN Business World Executive Breakfast Meeting
The MTN Business Executive Breakfast series running in its seventh year is the leading thought leadership and networking platform for Ghanaian business executives and entrepreneurs attracting over 800 executives annually.
It has hosted a number of international, motivational, and business leaders including Mac Attram, Robin Banks, Brian Tracy, Siya Xuza, Elikem Nutifafa Kuenyehia, Jason Njoku, Sharon Lechter, Mr. Yaw Nsarkoh, Rosa Whitaker and quite recently Ian Russel.