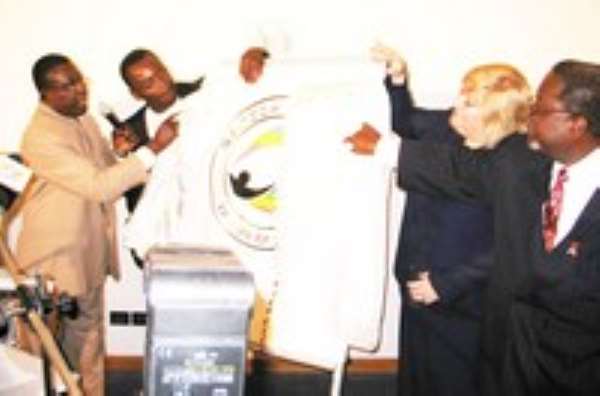 Professor Sakyi Awuku Amoa (left), Director-General, Ghana AIDS Commission (GAC), displaying the logo of the Rainbow Network, at the launching of the logo for the Network. It comprises a group of medical centres given the franchise to provide HIV/AIDS care and support in Ghana.
Assisting him is Mrs. Jennifer Shields de Leiva (right), of the Family Health International (FHI) headquarters, USA.
The first three clinics franchised are the Holy Trinity Medical Centre, Nyaho Medical Centre and Akai House Clinic.
Under the FHI franchising programme, the three private clinics are given the authority and permission by FHI to act on their behalf by providing HIV/AIDS care and support in Ghana.
Performing the launching, Professor Amoa said he was hopeful that Rainbow network would expand access to comprehensive and quality HIV/AIDS care, treatment and support.
Picture: Harriet B. Darko