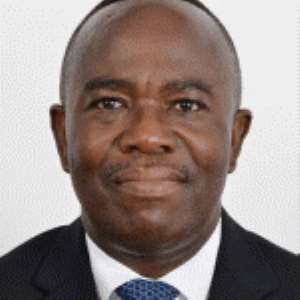 Mr. Kwasi Kwaning-Bosompem- Ag. CAG
Mr Kwasi Kwaning-Bosompem, I salute you and wish you well during this Ramadan festivities of Muslims across the nation. I also commend you for the good work you are doing. I want to draw your attention to something very important. I, therefore, hope this letter finds you and you will adjust the situation accordingly. I have heard from the walls that possess ears that you a listening Manager so I know will act for change. I will go straight to the point.
Abdul-Hakim Tweneboah is an Asante by tribe, a Health Service Administrator by profession and a Muslim by faith. This article is about an observation he made on 23rd May 2020 on his Facebook wall named "Hakiiso Wise." His observation is simple. The Controller and Accountant- General's Department (CAGD), which you superintend over was not able to pay May 2020 salaries to workers before the Eid celebrations.
He observed that the CAGD usually pays salaries two (2) days before Christmas celebrations. He attributed such an occurrence to your Department's thought that Christian workers need money for the celebrations. He further opined, "Unfortunately, that has never been done for any of the Eid festivals (Fitr and Adha). What is good for the goose is equally good for the gander."
Mr. Kwaning-Bosompem, the impetus of my letter to you stems from my conviction that Abdul-Hakim Tweneboah has a valid point worth considering by your Department. In my considered opinion, so many other Muslim brothers and sisters spoke through his lips. Ghana has three (3) major religions namely Traditional Religion, which does not have one founder, Christian Religion and the Islamic Region. Both the Christian and Islamic Regions are usually referred to as the Abrahamic Religions because their genealogical origins are traceable to the patriarchal Abraham of biblical times.
Mr. Kwaning-Bosompem, you would undoubtedly agree with me that both Christian and Islamic festivals are structured with schedule of activities and they are celebrated by even people of the traditional faith. That is the beauty of religious tolerance in Ghana.
You know, Mr. Kwaning-Bosompem, that these religious festivals are celebrated every year and they involve giving of alms or generosity. Be that as it may, the Payroll Division of your Department usually factor the Christian festival of Christmas into its annual payment schedules but according to my brother, Abdul-Hakim Tweneboah, you hardly do so for the Islamic festivals. I can bear you out however that in 2020, you paid April salaries after the Easter festivities.
Controller and Accountant-General's 2020 Salary Payment Schedules
However, let me recall the 2020 payment schedule published by the CAGD in December 2019.
| Month | Pay Day |
| --- | --- |
| January | 22nd |
| February | 26th |
| March | 26th |
| April | 24th |
| May | 27th |
| June | 26th |
| July | 24th |
| August | 26th |
| September | 25th |
| October | 26th |
| November | 25th |
| December | 18th |
Suffice to say that the Payroll Division of the CAGD will pay December 2020 salaries 7 clear days before the 2020 Christmas which falls on 25th December, 2020. This is where Abdul-Hakim Tweneboah has a point worth your consideration so far as the preparation of the yearly payment schedule is concerned.
Mr. Kwaning-Bosompem, in the statement that you issued in making the 2020 payment schedule public in December 2019, you stated, "The various banks will start crediting the accounts of employees from the dates indicated above. Any change in the above dates will be communicated to the Ministries, Departments, Agencies, Assemblies and respective banks." It means that the payment schedule is subject to change and it could have been adjusted to suit the 2020 Easter and Eid celebrations.
Your Eid Felicitations to all Muslims in Ghana
Mr. Kwaning-Bosompem, you issued a nice statement of felicitation on the official Website of the CAGD to all Muslims. The statement is under the caption, "Happy Eid Mubarak." In this statement under reference, you stated inter alia, "I send my warmest greetings to all our Muslim brothers and sisters celebrating Eid-al-Fitr. In the same statement, you described Eid as "an opportunity to reflect on the 30 days spent fasting and to commit to the Islamic values of gratitude, compassion, tolerance and generosity." Accordingly, Hakim and other Muslims are of the view that once you know this, you should have factored it into the yearly payment schedules so that the Islamic faithful who are paid by the CAGD would have money to prepare for the celebrations.
Conclusion
Much as I agree with Abdul-Hakim Tweneboah he should also know that both Christians and Muslims are brothers so there is nothing to complain about when a certain governmental or employer situation favors one brother more than the other. After all, Government supports the Hajj Pilgrimage trips to Mecca but there is no such known support for Christian pilgrimages yet our Christian brothers and sisters do not complain.
Regardless of our religious affiliations or beliefs, we are one people. I hope Abdul-Hakim had a good Ramadan celebration with support from his Christian brothers and sisters who were equally not paid before the Ramadan. On this note, I equally wish all Muslims a happy blessed. Eid. Eid Mubarak.
~ Asante Sana ~
Author: Philip Afeti Korto.
Email: [email protected]