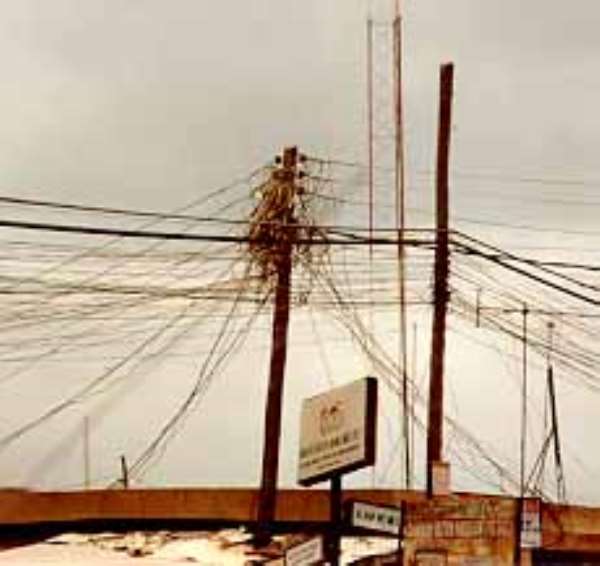 About 2,000 fixed telephone lines belonging to individual and cooperate subscribers in the Kumasi Metropolis have been disrupted within the past three months, following the wanton destruction of scores of Ghana Telecom's overhead and underground cables by unidentified people.
In what appears to be a case of sabotage, overhead and underground telephone cables in some parts of the metropolis have been cut into pieces.
Surprisingly, the cut pieces of cables are not taken away. They are rather abandoned, a situation which makes it extremely difficult for Ghana Telecom officials to place a finger on any other reason for the destruction, apart from sabotage.
Robert Baffour Awuah, GT Ashanti Regional Manager looking visibly perturbed, told reporters that "it may surprise you to know as many as 358 fixed lines were disrupted just last Friday.
He mentioned the worst affected areas as Adum, the hub of commercial activity in the metropolis, TUC residential area, North and South Suntreso, Buokrom Estates, Kwadaso, Esreso, Tanoso, Atasomanso and Santasi.
Mr Baffour Awuah said frequent and deliberate destruction of the cables was not only undermining the smooth operations of Ghana Telecom but, more important, adversely affecting its resources, especially finances.
"Materials meant for expansion projects have to be used to repair damaged lines and the frustrating aspect of it all is that we repair damaged lines in one area today only to find in a few days later that lines in other areas have been disrupted," he said.
Mr Baffour Awuah disclosed that materials and other resources worth about 531.7 million cedis had been used to repair damaged lines during the period.
The Regional Manager said the company was liaising with the police to track down the culprits.