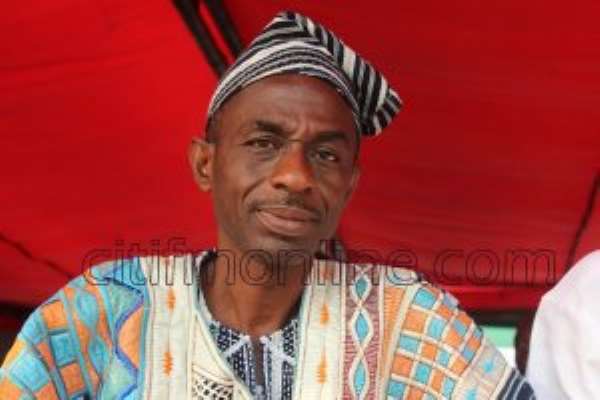 Johnson Asiedu-Nketia
If Mr. Johnson Asiedu-Nketia, the dynastic General-Secretary of the main opposition National Democratic Congress (NDC), thinks that the mere acquisition of a Master of War and Security Studies Degree from the Ghana Senior Military Staff College has fully prepared him to twist the arms of the Jean Adukwei Mensa-headed Independent Electoral Commission (IEC), in much the same way that he and Chairman Jerry John Rawlings and the Trokosi Nationalist Lawyer, Mr. Godwin Edudzi Tamakloe, twisted the arms of some lily-livered and weak-minded Supreme Court Judges in order to get the hoodlum pack of the movers-and-shakers of the NDC to arbitrarily and capriciously impose Dr. Zanetor Agyeman-Rawlings on the good people of the Klottey-Korle Constituency, in Accra-Central, then the man derisively called General Mosquito is in for a rude awakening, as New Yorkers are wont to say (See "No One Can Dare Compile a New Register, NDC Will 'Fight' EC with Our Blood" PeaceFM.com / Ghanaweb.com 5/22/20).
The fact of the matter, and the former Deputy Defense Minister and parliamentarian may conveniently have decided to deliberately blindside himself about the same, is that it was a legitimately constituted plenary session of Ghana's Parliament or National Assembly, that debated and resoundingly approved of the imperative necessity for the compilation of a New National Biometric Voters' Register (NBVR), and established a budgetary funding for the same, and there is absolutely nothing that any of the pathologically self-serving leaders of the National Democratic Congress can do about it. The Mosquito ought to rest assured that any idiotic attempt to disturb the hard-earned peace, prosperity and stability of the country would see him promptly arrested, indicted, prosecuted and placed behind bars for a long time to come, if not for the rest of his miserable life. Now, isn't it rather absurd for anybody to think that they could reimpose a thievish assassin like former President John Dramani Mahama on the good and hardworking Ghanaian citizens and the electorate, well after over One-Million legitimately registered Ghanaian voters and citizens have resoundingly made the indisputable decision to keep Little Dramani as far away from Jubilee House as possible?
The Mosquito must count himself darn lucky for not having already been put behind bars, after all the scamming that he collusively and collaboratively engineered with former Bui Dam Authority CEO Mr. Jabesh Amissah-Arthur, the younger brother of the late former Vice-President Kwesi Bekoe Amissah-Arthur, in the spurious name of "Quality Blocks." There may, of course, be other equally criminal rackets that might have escaped public scrutiny that need to be promptly unearthed, thoroughly investigated, meticulously ferreted out and severely punished. It goes without saying that seasoned political scam-artists like Little Dramani and the Anopheles Mosquito are fully aware of the fact that they cannot desperately and cavalierly attempt to do an "Abronye DC" on yours truly, when I aptly tag these common thieves for precisely what they are because the forensically sustainable evidence is available for all to see.
What of the Brazilian Embraer Jet Mega-Theft that is widely known to have netted Little Dramani a payola bonanza reportedly worth some $ 200 Million (USD) and for the Atta-Mills Hatchet Man is widely known to have come under investigation at the time of the brief "Mysterious Disappearance" of then-President John Evans Atta-Mills? What of the European Airbus SE Payola Mega-Heist that is still under investigation by Mr. Martin ABK Amidu, the Independent Special Prosecutor, for which the latter has been viciously dogged by Mahama goons like former Deputy Attorney-General Dominic Kuritinga Ayine, all to absolutely no avail? And, of course, the AKSA Energy Payola Mega-Heist? What of L'Affair Kanazoe? The list interminably goes on and on and on. Now, on the patently pedestrian question of whether, indeed, Little Dramani is a craven assassin on the loose, the Hatchet Man himself recently gave us a shocking but all too familiar clue and insight into the same, when Little Dramani publicly and categorically gave the proverbial game plan away by saying, furiously, that "I did not kill President Mills."
The obvious but deafeningly understated text here is that, indeed, Little Dramani, like the rest of us, believes and is, in fact, convinced that the man who generously handpicked him as his Presidential Running-Mate did not expire under normal or natural circumstances, contrary to what even some of the Dead President's own very close kin and family members have been widely reported to have claimed or still been claiming. You see, as his Second-in-Command and his closest lieutenant, Mr. Mahama could have at the very least stated emphatically that "President Mills was not killed by anybody. He died of natural causes." Instead, we had the megalomaniacal former President weirdly and almost remorsefully telling the nation: "I did not kill President Mills!" Dear Reader, do we need any further evidence before a Blue-Ribbon Commission of Enquiry sets to work?
*Visit my blog at: kwameokoampaahoofe.wordpress.com Ghanaffairs
By Kwame Okoampa-Ahoofe, Jr., PhD
English Department, SUNY-Nassau
Garden City, New York
May 22, 2020
E-mail: [email protected]