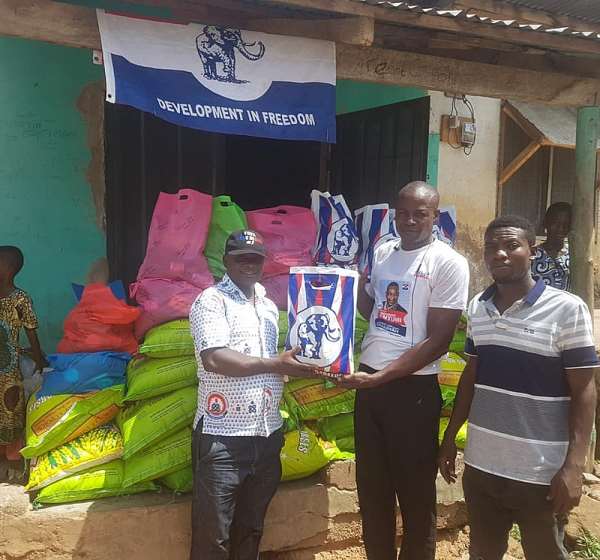 The NPP Parliamentary Candidate for Krachi West, Justice Amankwa Mensah, and the District Chief Executive, Douglas Osei Nti have together donated food items to the Muslim communities in the Krachi West district.
The items included 80 bags of rice, 50 bags of sugar, cartons of milk, teabags, among others.
Mr. Peter Krah, the party's Secretary, and Mr. Rabiu Bio, the Party's 1st Vice-Chairman who presented the items on behalf of the PC and the DCE, urged the Muslims to pray fervently to Allah to forgive and heal the nation of the novel coronavirus disease, which had killed many people in the world, they also requested a prayer for the visionary President, the leadership of the great Elephant party at the National level, Regional level and the Constituency level.
They asked the Muslim youth to adhere to the good teachings of the Quran and avoid negative lifestyles and irresponsible acts such as fighting, disrespect for authority, vandalism, and other acts, which could affect their lives in the future.
Ahmed Yakubu, the Nasara Coordinator of Krachi West and Amarley Mustapha, the Nasara Wing Chairman who received the items, commended the Parliamentary Candidate popularly known as JAM1 and the DCE for thinking about the welfare of the Muslims in Krachi West District.
The Nasara Coordinator said, " The food items had come at the right time since this year's Eid-al-Fitr will be celebrated in a grand style because there will be no gathering due to the invisible enemy the whole world is battling with, which has slowed down businesses and many other things, the food items will help the Muslim Ummah celebrate the Eid-ul-Fitr with their families and friends."
Special packages were handed over to the founding fathers of the Nasara Wing.
Communities and Mosques that benefited include Bomodin, Chokosi, Ehiamankyene, Osramanae, Gyanekrom, Kete Central Mosque, Ahlusunna Mosque, and Ahmadiya Mission.
Over 23 other youth groups also benefited from the donation.