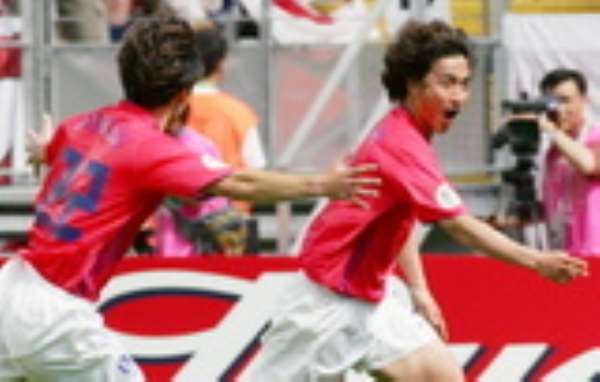 Ahn Jung-Hwan turned back the clock four years with a spectacular winning goal as Korea Republic came from behind for a 2-1 victory over ten-man Togo in their opening Group G match in Frankfurt on Tuesday, 13 June 2006.
Surprise semi-finalists in 2002, the South Koreans looked like they might suffer a taste of their own medicine when Togo, on their FIFA World Cup debut, took a 31st-minute lead through Mohamed Kader.
But after Jean-Paul Abalo's 53rd-minute dismissal, Lee Chun-Soo swept home the ensuing free-kick 60 seconds later before Ahn revived memories of his extra-time winner against Italy in 2002 with Korea Republic's second goal 18 minutes from time.
The match
5' With not a single win for Africa or Asia so far in the competition, the game opened with each side tentatively testing the other's defences.
11': Korea Republic emerged as the more eager to throw numbers into attack but it was Togo who had the first chance, Kader running onto a high ball and almost forcing Lee Woon-Jae into action with a rising shot from the corner of the box.
31': The Taeguk Warriors' dogged determination was pushing Otto Pfister's team more and more onto the back foot. But they were made to pay for their inability to create a goalscoring opportunity when Togo conjured a goal out of nothing. The predatory Kader took down a difficult high ball on his thigh and, without thinking twice, fired a low shot across Lee Woon-Jae and in off the post. (0-1)
36': Korea Republic threw everything into attack but found their aim less true. First Park Ji-Sung volleyed high and wide after a dangerous corner fell at his feet. Then, two minutes later, striker Cho Jae-Jin moved the ball onto his more favoured left foot but failed to trouble Kossi Agassa with an angled drive from outside the box.
40': With the Red Devils supporters becoming more excited, Lee Eul-Yong's 25-yarder was easily saved.
42': The Africans were more effective and only a flying tip-over from Lee Woon-Jae prevented Yao Junior Sanaya from doubling the lead with a curling free-kick.
Red card for Abalo
47': Two minutes after the restart, Park bought some space just outside the box but again his final shot rose high over the bar.
48': Needing the merest sight of goal, Kader dropped his shoulder, pushed the ball onto his trusty right foot and called Lee into diving action again with a powerfully struck 20-yard effort.
53': The Sparrowhawks were looking comfortable but the game was turned on its head in a single action. Showing a lightning turn of speed, Park burst through the heart of the Africans' defence before being brought down by Abalo. The Togo skipper was shown his second yellow card and marched off.
54': Lee Chun-Soo stepped up and sent the free-kick over the wall with enough top spin to stay low and find the corner of the net to equalise. (1-1)
63': Quiet up until then, Emmanuel Adebayor, Africa's top scorer in the qualifiers, came briefly into the match just after the hour mark. The Arsenal forward's right-wing cross fell to Senaya who could not keep his well-struck shot down.
65': Senaya, who had skipped past three men on the halfway line, then played a fine one-two with Adebayor before trying an audacious chip that easily cleared the bar.
72': Korea Republic's forays forward always looked the more measured, however, and they grabbed the lead for the first time in the match. Ahn, on as a second-half substitute, was given time and space on the edge of the box to look up and send a dipping shot past Agassa. (1-2)
75': Ahn darted into the box but this time his left-foot strike was blocked by the feet of Agassa.
81': A man down, Togo threw caution to the wind in a desperate search for the equaliser. Kader again tried his luck, this time with a 25-yarder, but he failed to test Lee Woon-Jae as the ball sailed over.
In conclusion: Korea Republic chalk up their first-ever FIFA World Cup win outside of Asia with a spirited second-half fightback. Credit to first-timers Togo, though, for putting their pre-finals problems behind them to push the Koreans all the way.