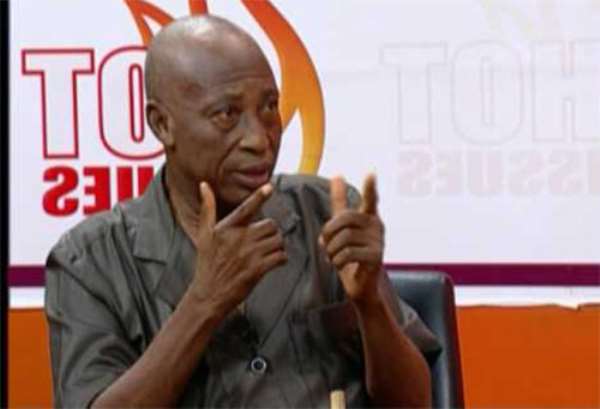 Major Boakye Gyan
Reignier: "I am a soldier, and unapt to weep, Or to exclaim on fortune's fickleness… I am a soldier and am unable to cry or to accuse inconstancy of fortune." Henry VI Part 1, Act 5, Scene 3 - William Shakespeare
MAJOR BOAKYE GYAN and I may have met at the University of Ghana Language Centre where we were together being taught the 'ABD' of Vegbe for our individual purposes. He may have been Captain. Two years later, he was heard all over the air as having staged a coup d'etat and released J.J. Rawlings from custody and made him 'leader of the Revolution' and he (Boakye Gyan) as Spokesman for the Armed Forces Revolutionary Council (AFRC).
We do not want to recall the atrocities meted out to Ghanaians at that time. The young men (aged between 25 and 34) of the AFRC with Rawlings, Mensah Gbedemah, Apaloo, Mensah Poku and Boakye Gyan, acting on an adhoc basis, had executed Kutu Acheampong (48), Utuka (42), Fred Akuffo (42), Akwasi Amankwaa Afrifa (43), Roger Felli, (38), Joy Amedume, Robert Kotei, George Yaw Boakye. Yes, executed at those very young ages! And the reign of terror! Curfew at 6:00pm to 6:00am! Haba!
And now, Major Boakye Gyan will not behave like Captain Acheamfour who openly heaps condolences upon the bereaved families of the slain men, but will not let sleeping dogs lie, rather will talk about "civil war", justifying this on the grounds that other nations which had made it had passed through that kind of belligerence before!
Daily Guide captures Boakye Gyan's situation well in its editorial of Friday, May 15, 2020 (the 41st anniversary of Rawlings's botched coup): "Ghana has grown past the time when he was hopping all over the place lying about a better Ghana he and the junta were going to usher the country into but which never came… For him to threaten mayhem in the country should the wish of the NDC not be achieved is, of course, one of the symptoms of psychosis he is manifesting." Boakye Gyan's brother, Kyeremeh Djan, was tortured, after he, Boakye, had left the country with a handsome booty by the Limann government. How would it taste to be a victim?
Boakye Gyan must be a grandfather now, so what advice does he give to his children, his grandchildren? Or does he not know that there are "men" in the families of the persons he slew in 1979? Or does he not know that when there is a conflagration, it can consume all of us indiscriminately? Again, Daily Guide editorial of Tuesday (not Wednesday) May 19 is relevant: "At such a respectable age, this man is still basking in the shadows of the court martial offences he committed, and which in the 80s compromised the age-old discipline in the Ghana Armed Forces." Is Boakye Gyan still relevant? Agya Dum, the leper in my village, would advise us: "Meye abrantee no mahooden nti na yebo gye me so: Odum ye barima, Odum ye barima, ene gann (when I was young, because of my strength, people would hail me: Odum is a man, Odum is a man. Now see me-a leper).
True, ever since Cain treacherously killed his brother Abel and lied to God ("Am I my brother's keeper"), the world has lived through violence upon violence. Nations have risen against nations, empires above empires. Grecian, Egyptian, Roman, Chinese, Japanese, British…In the 220BC in ancient Rome, Cato the Censor always ended his speeches: "Carthago delenda est" (Carthage must be destroyed). He would scream: "Ceterum censeo Carthaginem esse delendam" (Furthermore, I consider that Carthage must be destroyed). In contradiction, Publius Cornelius Scipio Nasica Corculum, the son-in-law of Scipio Africanus, would conclude his speeches: "Carthago servanda est" (Carthage must be saved). Cato won the debate, and, with Carthage attacking Massinissa, the casus belli (cause of war) was provided. In modern history, but for the fortitude of great leaders like Winston Churchill, Joseph Stalin, Charles de Gaulle, Franklin Roosevelt, the world would have been smarting under the foot of Fuhrer Adolf Hitler, Austrian-born German's Reich and suzerainty.
In Africa, Nigeria was plunged into a civil war when Biafra (Igbo state) formed a de facto independent state in 1967. Ojukwu became a common nickname in Ghana. In the two-and-a-half year war, 100,000 people perished and about two million died out of starvation. Liberia's Charles Taylor subdued Samuel Doe in the war that lasted between 1989 and 1997 killing over 250,000. In the 1991-2001 Sierra Leonean civil war, erupted when Charles Taylor's National Patriotic Front of Liberia got involved in an attempt to overthrow the Jospeh Momoh government. The civil war that ensued led to the death of over 50,000 people. People's hands were severed, and fleeing Liberians and Sierra Leoneans were given a haven at Budumburam in Ghana. The civil war in Cote d'Ivoire wars in two parts: the first which began in 2002 ended in 2004 with the country split in two. That was after the death of Houghoet Boigny after 33 years of reign. The second one was brought by the 2010-2011 post-election dispute between former President Laurent Gbagbo and Allasane Quattara. A total of 3,000 persons perished.
The Rwandan 'genocide' in which the Hutus slaughtered the Tutsis, the Twa and moderate Hutus kept concerned Africans asking, like Dr. Armattoe: "What is 'inside the Blackman's mind'? The Rwandan Patriotic Front (RPF) composed of Tutsi refugees in Uganda, initiated the Rwandan Civil War of 1990. The President, Juvenal Habyarimana, signed the Arusha Accords with the RPF. Habyarimana was assassinated on 6th April, 1993, and a power vacuum was created. The genocide did not spare even those seeking refuge in churches (as for example 5,000 people hiding in Ntamara Church were killed). Tutsis suffered severely (about 70% of Tutsi's population were killed); also killed were 'moderate' Hutus who were considered 'traitors' or 'soft' people. The Hutus were ordered: "Begin your work; spare no one", not even children or fellow church members who were found to be Tutsis. Hutu villagers who defied orders to kill Tutsis were classified as Tutsi sympathisers and they themselves were killed… till the heavily-armed Tutsi-backed RPF led by Paul Kagame took control. Casualties: 1,000,000.
Gory pictures, these- for everyone to sit wiser. The pogrom, once started, may not end peacefully. Brigadier Nunoo-Mensah says: "If I were in his (Mahama's) shoes and this thing (Airbus bribery scandal) hangs on me, I will not dream of coming back." And who says the choice is not Mahama's? Mahama wants to make history: Assemblyman, Member of Parliament, Minister, Vice-President, President… then another President. Some of his colleagues may not even have been section leaders or class prefects. Les Crane in 'Desiderata' sings: "Go placidly amid the noise and haste. And remember what peace there may be in silence. As far as possible without surrender. Be on good terms with all persons… If you compare yourself with others, you may become vain and bitter… You are a child of the universe. No less than the trees and the stars, you have a right to be here…Therefore, be at peace with God, whatever you conceive him to be… Keep peace with your soul." Boakye-Gyan needs our prayers. He should master the words of 'Desiderata'.
From Africanus Owusu-Ansah