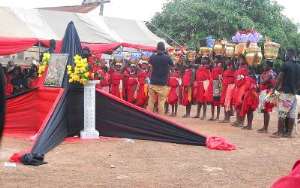 Entire Ghanaian traditional - culture and customs are based on DEATH than LIFE. The pomp, pageantry and grandiose exhibited during funeral ceremony of a native of Ghana especially Akans precisely, Asanti's ( i' am) by so-called family, friends and well - wishers are more, purely an act of " show off" due to hypocrisy.
The demise of a family member, relative or known person is an opportune season for others to show a superficial love, affection and recognition but, simply to DISPLAY wealth, success or socialize. Other mourners from far and near take the advantage of a fellow's demise to outdoor latest fashion funeral, a marriage/relations market, gossips, security, network, amid grave looters.

Factly estimated 95% of mourners wouldn't have contributed a dime in the health care of the deceased to have a life but, will contribute handsomely to offer a befitting burial for their names to be announced at funeral grounds, with subsequent thanksgiving of appreciation during " trying times". In reality, their contributions aren't made outta LOVE, AFFECTION but, HYPOCRISY! They needn't the dead alive that much anyways. For example, whenever homes are refurbished, unmotorable roads graded, shrubs manicured, mountains of garbage collected, environment disinfected in a house, village, town or city, then one must look out for the death of a native.

The traditional - culture and custom of Ghana promote DEATH ! Nonetheless, there are quite a hand full that promotes LIFE! The writer, Khofi Kofi Owusu is a free thinker, an advocate for human security and social inclusivity and a member of glisy9b8 VOTERS ASSOCIATION ( FloVA). U can visit FloVA on www.flovagh. org soon to join, support or donate. FloVA is a subsidiary of KKO Advocacy Resources. He works with KKO Advocacy Resources as the founder and CEO. Aloha