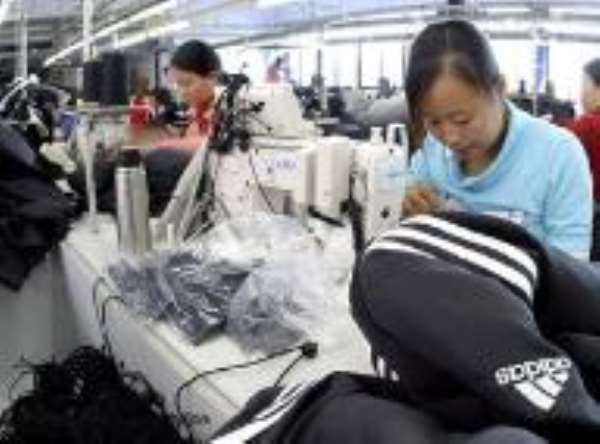 German politicians have long bemoaned companies' reluctance to offer apprenticeships for school graduates. Now the Green party is training its sights on sports giant Adidas for hiring just 17 trainees a year.
With virtually everything in Germany revolving around the World Cup, it seems inevitable that the popular sport would spill over into the realm of politics during the four weeks of the huge event.
That's exactly what seems to have happened this week as Germany's Green party seized on Adidas, the country's heavyweight sports goods-maker and whose logo -- as an official World Cup sponsor -- is currently ubiquitous. It wasn't the company's sports-friendly credentials that caught the eye of the party, but rather it's glaringly slim number of trainees.
Despite having around 2,000 employees on its payrolls in Germany, Adidas only takes in around 17 trainees a year.
"A scandal"
"It's a scandal," said Reinhard Bütikofer, head of the Green party. He pointed out that the company currently has 40 trainees, which gives it a trainee-hiring rate of just 2 percent.
"If this company simply doesn't do anything in such a crucial matter, then it has to be put under social pressure," Bütikofer said.
His comments come amid mounting concern in Germany that young school graduates are increasingly facing bleak futures with too little apprenticeships to go around.
Germany has what is known as a "dual system" of education, where graduates of high schools and vocational schools take an official, paid apprenticeship, usually around three years in length. At the same time, they study classroom skills related to their profession. It is a time-tested route into the German job market for people in a wide array of vocations, from carpentry to graphic design to office administration.
This week, German President Horst Köhler weighed in on the debate, urging companies to do more to create apprenticeships.
"More can be done there and more has to be done," Köhler said in an interview with public broadcaster ARD. Addressing companies, Köhler said: "Your responsibility doesn't stop at the door of the factory." At the same the president said that to be fair, too many school graduates were also considered under-qualified for apprenticeships by many companies.
According to the German government, there's a lack of between 40,000 to 50,000 apprenticeships this school year.
Greens threaten campaign, Adidas denies wrongs
The Greens are now threatening to start a campaign against companies, such as Adidas, which are listed on Germany's DAX share index.
"It's not acceptable that the stars of German industry simply get out of their social responsibility," Bütikofer said, adding his party wanted to work together with companies and trade unions to highlight the "scandal."
Adidas has confirmed the statistics, but says it doesn't find anything wrong with the situation. A spokeswoman at Adidas company headquarters in Herzogenaurach told news agencies that in addition to "classical apprenticeships," the company had more than 200 interns and trainees.
Usually most are hired by the company after the completion of their training period, she added.
Poor trainee-hiring rates
But the Greens aren't convinced. According to research carried out by the party, nine of the 30 DAX-listed German companies have a trainee-hiring rate of under 5 percent.
"You can mention just seven companies in a positive light," Bütikofer said. They include energy company E.on, engineering giant MAN and Lufthansa airlines, which each boast a trainee hiring rate of 7 percent. Pharmaceuticals giant Bayer and retail chain Metro have levels of 8.2 percent and 8.5 percent respectively. Travel company Tui and Deutsche Bank hired trainees at the high rate of 11 percent per year.
An average hiring rate of 7 percent is necessary for each school graduate to get an apprenticeship, according to Bütikofer.